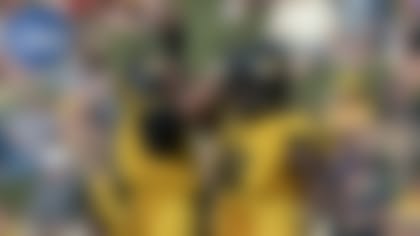 Over the last several years, Missouri has produced a number of outstanding defensive linemen. Guys such as Sheldon Richardson, Aldon Smith, Kony Ealy and Shane Ray have honed their pass-rushing skills in Columbia, Mo. Well, there's another one in the pipeline. Charles Harris has already established himself as one of the premier pass rushers in college football. I had a chance to study three of his games from last fall. Here is my scouting report.
Charles Harris, redshirt junior DE, Missouri
Height, weight: 6-foot-3, 255 pounds (school measurements)
2015 statistics: 56 tackles (32 solo), 18.5 for loss (7.0 sacks), 2 forced fumbles
Game tape watched: Florida (Oct. 10, 2015), Georgia (Oct. 17, 2015), Mississippi State (Nov. 5, 2015)
What I liked: Harris is a gifted pass rusher with outstanding instincts, technique and power. He primarily lines up at right defensive end, but he will occasionally stand up and rush from a two-point stance. He has a variety of pass-rush moves. He can spin both inside and outside. He has a nasty stutter/bull-rush move, and he also possesses a violent slap/rip move. He consistently generated pressure in every game I studied. Opponents adjust their pass protection schemes to focus on him (sliding protection his way, and chipping him with a back or tight end). However, he still manages to be disruptive. He doesn't have an elite first step, but when he gets on the edge of an offensive tackle, he can power through their outside shoulder and flatten toward the quarterback. He is also a solid run defender. He can slash through gaps and make plays behind the line of scrimmage, or stack blocks and hold the point of attack. His effort is excellent and he plays a lot of snaps for the Tigers' defense. His gas tank is never empty.
Where he needs to improve: Harris has a tendency to play a little too high and narrow at times. He's able to get away with it at the college level because of his pure strength and athleticism. However, NFL offensive tackles will uproot him and handle him if he doesn't lower his pad level. This is something that can be fixed easily, and I don't envision it being a problem in the long run. The only other area I would like to see improvement is in his flexibility and fluidity. He isn't a bendy, loose athlete, and that shows up when he plays in space. If he's going to be a 3-4 OLB at the next level, that is something he'll need to work on.
Biggest takeaway: Harris has a natural gift to rush the passer. He has a nice blend of physical skills, but I'm even more impressed with the technical aspect of his game. Rushing the passer is almost like pitching. You can't just win with a fastball. Harris has several outstanding pitches (moves) and he keeps hitters (offensive tackles) off-balance. I don't have a perfect comparison for him, but I saw some of the same things from Ryan Kerrigan when he was at Purdue. Both guys play with maximum effort and posses outstanding natural instincts.
I can't wait to see him play ... Tennessee on Nov. 19. The Vols are loaded with young talent, and many are predicting them to win the SEC East this fall. Missouri will head to Knoxville at the end of the season in a matchup that could decide who plays in the SEC title game. Harris is the type of player that can take over a game, and this game will be a huge stage to show off his pass-rushing skills.