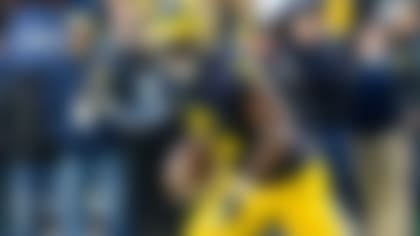 Editor's note: NFL Media analyst and former NFL scout Daniel Jeremiah takes a "first look" at college football's top players for 2016. This is the 15th in a series of scouting reports that will run throughout the offseason.
It didn't take long for Jim Harbaugh to resurrect the Michigan program. The Wolverines are considered a legitimate playoff contender entering his second season, and they should have one of the top defenses in the country. The leader of the defense is Jabrill Peppers, a dynamic two-way player who operates primarily on the defensive side of the ball. I had a chance to break down his play and here's my report:
Jabrill Peppers, DB, Michigan
Height, weight: 6-foot-1, 208 pounds (school measurements)
2015 statistics: 45 tackles (34 solo), 5.5 tackles for loss, 10 pass breakups. Eight catches for 79 yards, 2 touchdowns. Eighteen rushes for 72 yards (4.0 yards-per-carry average), 2 touchdowns. Seventeen punt returns for 194 yards (11.4 average). Eight kickoff returns for 223 yards (27.9 average).
Game tape watched: Northwestern (Oct. 10, 2015), Minnesota (Oct. 31, 2015), Ohio State (Nov. 28, 2015), plus every offensive touch and every kick/punt return from 2015 season.
What I liked: Peppers is one of the most versatile players in the country. He primarily lined up as the nickel cornerback last fall, but he also saw time at cornerback, linebacker and safety. He also took snaps on offense, and returned punts and kicks. He is very effective in press coverage. He patiently sits and catches wide receivers, effectively rerouting and disrupting the timing of the play.
He is fluid in his turn, and he has excellent recovery speed down the field. He is instinctive and aware in underneath coverage. He jumped a bubble screen for a near interception in the Minnesota game. He is outstanding as a run defender. He fights through blocks and is a very reliable tackler in space. He shows timing and burst as a blitzer. He doesn't hit a lot of home runs in the return game, but he consistently makes the first man miss and he compiles a lot of 30- and 40-yard gains. On offense, he is a very aggressive runner and he has the strength and power to run through defenders (see the touchdown against Minnesota). His overall competitiveness is his best quality.
Where he needs to improve: Peppers is inconsistent in off coverage. He operates from a side shuffle, and is late to drive on in-breaking routes, allowing too much separation. He also will get caught flat-footed at times, allowing opponents to get on top of coverage. He also gets away with a lot of grabbing down the field. That should be an easy fix. He caught the ball naturally on offense, but he dropped two interceptions in the games I studied. He put himself in position to make the plays, but he needs to finish with the ball.
Biggest takeaway: I'm excited to see how Peppers is used this fall. The plan is to move him to linebacker and allow him to attack the line of scrimmage. I think that will be a great fit for his skill set. He can blitz, cover tight ends and chase plays from the backside. He is in the same mold as recent first-round NFL draft picks Deone Bucannon of the Arizona Cardinals, Shaq Thompson of the Carolina Panthers and Keanu Neal of the Atlanta Falcons. I think he will have a bigger impact on a weekly basis in this new role for the Wolverines.
I can't wait to see him play ... Hawaii on Sept. 3. Hawaii isn't the sexiest opener for Michigan, but I'll be tuned in to see how Peppers performs in his new role. How much offense is he going to play? Will he return kicks? We'll find out during the season's opening weekend.