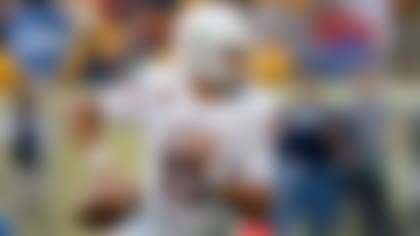 Editor's note: NFL Media analyst and former NFL scout Daniel Jeremiah takes a "first look" at college football's top players for 2016. This is the 19th in a series of scouting reports that will run throughout the offseason.
The Miami football program has struggled recently, but there is reason for optimism this fall. New head coach Mark Richt has a long, successful track record and he has the luxury of starting a veteran quarterback. Brad Kaaya is only entering his junior campaign but he's already started 25 games for the Hurricanes. If Miami is going to make some noise in the ACC, it will need Kaaya to play at a very high level. Here's my initial scouting report on the talented passer.
Brad Kaaya, junior QB, Miami
Height, weight: 6-foot-4, 215 pounds (school measurements)
2015 statistics: 238-of-389 for 3,238 yards, 16 touchdowns, 5 interceptions.
Game tape watched: Florida State (Oct. 10, 2015), Virginia Tech (Oct. 17, 2015), Clemson (Oct. 24, 2015)
What I liked: Kaaya has quick feet in his setup and he has a smooth, fluid delivery. He throws a beautiful, tight ball and he has enough velocity to make all of the throws. He operates in a spread attack but there are plenty of examples where I see him read the entire field. He flashes the ability to anticipate and accurately deliver tight-window throws (see TD vs. Virginia Tech). He is at his best on quick-rhythm throws. The ball comes out quickly and accurately. He isn't much of a threat as a runner but he will occasionally escape and buy time.
Where he needs to improve: Kaaya struggled when pressured. He falls off throws and his accuracy suffers. His offensive line was leaky in these games and Kaaya took a beating (he was knocked out of the Clemson game). He also needs to work on connecting his feet to his eyes. He quickly works through progressions with his eyes but sometimes his feet fail to catch up, which causes some balls to sail. His deep-ball accuracy is another area that needs improvement. I haven't seen him play in person but he looks thin on tape. He's listed at 210 pounds. I'd like to see him closer to 225 pounds.
Biggest takeaway: Kaaya is very smooth and has plenty of arm talent. I'll be looking for him to show more poise under pressure this fall. If he can clean that up, he will take his game to a new level. It will be interesting to see how he functions in Richt's system. I see some similarities to Jared Goff and Teddy Bridgewater. They share similar physical builds and arm talent but I thought Goff and Bridgewater performed better under duress.
I can't wait to see him play ... Florida State on Oct. 8. There's nothing better than a tradition-rich rivalry game. Florida State has been the superior program in the state of late but Miami has high hopes this season. Florida state is loaded with defensive talent and it will present a huge challenge for Kaaya. Safety Derwin James is one of the top defenders in the country and Kaaya will need to avoid him as the QB tries to lead the Hurricanes to a win.