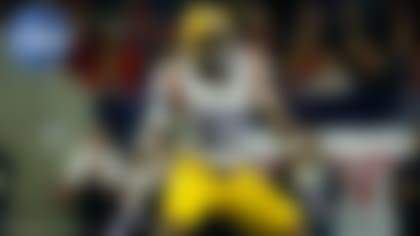 Editor's note: NFL Media analyst and former NFL scout Daniel Jeremiah takes a "first look" at college football's top players for 2016. This is the 16th in a series of scouting reports that will run throughout the offseason.
In scouting circles, we use phrases like "that guy flashes on tape" or "he jumps off the screen." We usually spout those words when we are trying to study a specific player, but someone else keeps stealing our attention. That's what happened late last fall when I began to study the LSU defensive players for the 2016 NFL Draft. I kept noticing this safety, No. 33. He was flying all over the field and making all kinds of plays. I had to pull up a roster to find out who he was and learn more about him. I quickly learned his name was Jamal Adams and he was only a sophomore. I made a point to peek at him when I attended LSU's bowl game against Texas Tech. He didn't disappoint. Over the summer I've had a chance to really dig in and study him on tape. This is my scouting report.
Jamal Adams, junior safety, LSU
Height, weight: 6-foot-1, 211 pounds (school measurements)
2015 statistics: 67 tackles (47 solo), 5 tackles for loss, 6 pass breakups, 4 interceptions, 1 forced fumble.
Game tape watched: Arkansas (Nov. 14, 2015), Texas A&M (Nov. 28, 2015), Texas Tech (Texas Bowl, Dec. 29, 2015)
What I liked: Adams is at his best when he's playing near the line of scrimmage. He is very quick to key/read and drive on balls underneath. He has the quickness to mirror slot wide receivers and the physicality to match up with tight ends.
Adams is a chest-up tackler and he delivered several big hits in the games I studied. He rolls his hips on contact and has immediate stopping power. He shows the ability to take on and get off blocks in the tackle box. He sets the edge like an outside linebacker. He plays bigger than his listed weight. His overall awareness is outstanding. Arkansas tried to fool him on a trick play, but he didn't bite. He stayed in position and came away with a red-zone interception. He plays with passion, and his teammates seem to feed off of his energy.
Where he needs to improve: When he's aligned in the deep middle, he doesn't always take the correct angle to the alley. He doesn't miss many tackles, but he will have an occasional play in which he doesn't come to balance and fails to trip up a ball carrier. However, this is really nitpicking his game. I've combed through my notes in search of negative observations, but there wasn't a whole lot there. He is a very clean football player.
Biggest takeaway: Adams reminds me a lot of Eric Berry, who was the NFL's Comeback Player of the Year last season. I don't think he's quite as fast as Berry was coming out of college, but he plays the game the same way. His combination of physicality, instincts and energy is very enticing. I love his aggression and passion for the game. He is one of the top defensive players in the country, and he will be a household name by the end of the upcoming season.
I can't wait to see him play ... Alabama on Nov. 5. It doesn't get much better than LSU vs. Alabama. Last fall, the Crimson Tide physically dominated the Tigers in Tuscaloosa. I expect a much better game in November, when LSU hosts Alabama. Adams will square off against one of the top tight ends in the country (O.J. Howard) and his physical presence will be needed to slow down the Alabama rushing attack. I don't know if LSU will be able to win the game, but I expect Adams to showcase all of his skills.