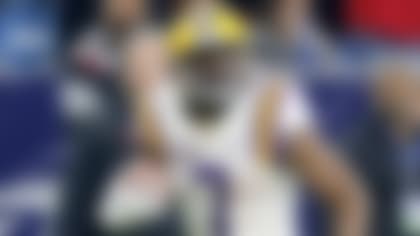 Editor's note: NFL Media analyst and former NFL scout Daniel Jeremiah takes a "first look" at college football's top players for 2016. This is the second in a series of scouting reports that will run throughout the offseason.
I first heard about Leonard Fournette when I flipped on the 2014 Under Armour All-America Game. He was touted as the premier high school player in the country and described as a "once-in-a-decade" talent. I'm always a little skeptical when the hype train leaves the station on high school kids. However, there are those rare players that justify it. Now that I've seen him play live and studied three of his college game tapes, I can assure you, the hype was warranted.
Leonard Fournette, junior RB, LSU
Height, weight: 6-foot-1, 230 pounds (school measurements)
2015 statistics: 300 carries for 1,953 yards and 22 TDs; 19 catches for 253 yards and a TD.
Game tape watched: Auburn (Sept. 19, 2015), Alabama (Nov. 7, 2015), Texas Tech (Dec. 29, 2015)
What I liked: The obvious -- height, weight and speed. He has rare physical traits for the position. He is ultra-explosive and also has a natural gift as a runner. He has a feel for finding creases and attacks the hole with ferocity. He hunts for contact. While some runners stop their feet when met with contact, Fournette changes gears and explodes through defenders. He has excellent lateral quickness and he can make the free man miss when he wants to. He flashes a nasty spin move and he can create space where none exists. Once he gets into the open field, he has the speed to go the distance (see his touchdown run above vs. Texas Tech). His hands are very reliable and he catches the ball away from his body.
Where he needs to improve: He has room to grow in the passing game. He has excellent hands but his route running isn't crisp and he's very inexperienced as a pass blocker. He has the quickness and athletic ability to develop into a passing-game weapon, but right now in his development he lacks precision and allows inferior athletes to stay with him underneath. LSU's passing game features a lot of play-action, with Fournette functioning as a decoy or leaking out into the route. He's seldom asked to stay in and protect the passer. In his limited opportunities, he was aware and showed the ability to stay square. He just needs more reps in this area.
Biggest takeaway: Fournette is a unique talent. In an era of backfield by committee, he's the type of back that can carry a heavy workload. He can grind out tough yards, but he's also capable of popping a long run at any moment. Comparisons are tough for Fournette. I see a mix of Todd Gurley and a young Frank Gore. After Fournette rushed for 212 yards and scored five touchdowns in LSU's 56-27 Texas Bowl victory over Texas Tech, one veteran personnel man gave me a different comparison: LeBron James.
I can't wait to see him play ... Alabama on Nov. 5. Last year, Fournette was the front-runner to win the Heisman Trophy before Alabama's talented front seven completely shut him down. I watched that game to see how Nick Saban's defenders did it. They dominated the LSU offensive line and got to Fournette before he could get going. He had some incredible short-yardage runs. It was a minor miracle when he was able to get back to the line of scrimmage. Alabama lost a lot of NFL talent up front in the draft, and if it gives Fournette some daylight, he's capable of putting up big numbers. This will be a fun one to watch.