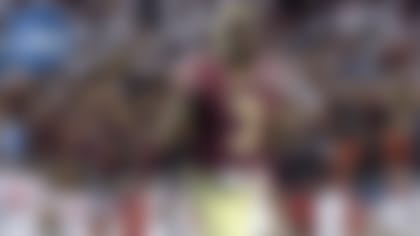 Editor's note: NFL.com analyst and former NFL scout Daniel Jeremiah takes a "first look" at college football's top players for 2017. This is the second in a series of scouting reports that will run throughout the offseason.
Florida State safety Derwin James is arguably the most physically talented defensive player in college football. Unfortunately, he missed the majority of his sophomore campaign due to a left knee injury, but he is fully healthy and ready to go for the 2017 season. I went back and studied 2 of his games from his freshman season as well as the opening game of 2016. Here's my scouting report.
Click through tabs above to see other scouting reports.
Derwin James, redshirt sophomore safety, Florida State
Height, weight: 6-foot-3, 211 pounds (school measurements)
2015 statistics (missed all but 2 games in 2016 due to injury): 91 tackles (9.5 for loss, including 4.5 sacks), 5 passes defensed, 2 forced fumbles
Game tape watched: Ole Miss (Sept. 5, 2016), Clemson (Nov. 7, 2015), N.C. State (Nov. 14, 2015)
What I liked: James has outstanding size, speed, explosiveness and versatility. He's shown tremendous range when aligned in the deep half or deep middle (see pass breakup against Clemson). He can cover ground quickly and locate the ball once he arrives (see INT vs. Ole Miss). He's been used as an outside linebacker at times and he's a dynamic pass rusher. He can win with pure speed or a devastating inside counter move. James has the agility to match up with tight ends in man coverage and he possesses the makeup speed to recover if he gets out of position.
Where he needs to improve: James' lack of ball production is a bit of a concern. He has only one interception in his brief career. If he can stay healthy for a full season, I firmly believe his ball production will drastically improve. I'd also like to see him show more consistent effort as a backside run defender. He has some loafs on tape and that's unusual for big-time safety prospects. This should be an easy fix.
Biggest takeaway: James made some incredible splash plays (mostly big hits and sacks) in every game I studied. He's a wow player. However, I would like to see more ball production from him this fall. If he improves in that area, there's no reason he can't be viewed as an elite safety prospect. He has a unique physical skill set, which allows him to make plays all over the field. I like him best when he's around the line of scrimmage. I think he could develop into a faster, more athletic version of Kam Chancellor. I know that's high praise, but he has that type of ability.
I can't wait to see him play ... Alabama on Sept. 2. I've already put in my request to attend the opening game in Atlanta. It doesn't get any better than Florida State vs. Alabama. They should both be ranked in the top five (there's a chance they will be ranked No. 1 and No. 2). Alabama has 4-5 NFL-caliber running backs and Calvin Ridley is one of the most explosive receivers in the country. This will be a huge stage for James to show off for NFL evaluators. I can't wait to see how he performs.