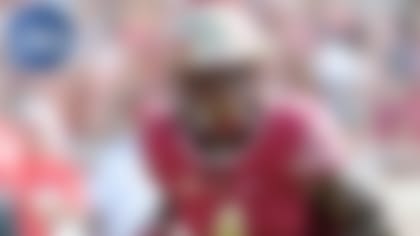 Editor's note: NFL Media analyst and former NFL scout Daniel Jeremiah takes a "first look" at college football's top players for 2016. This is the seventh in a series of scouting reports that will run throughout the offseason.
This is the year of the running back in college football. I can't remember a time where there's been more quality depth at the position. I've already released First Look reports on Christian McCaffrey and Leonard Fournette. Next in line is Florida State's explosive runner, Dalvin Cook. Cook is a fun player to watch on TV, and I had even more fun breaking him down on all-22 tape. He's a special talent.
Dalvin Cook, junior RB, Florida State
Height, weight: 5-foot-11, 206 pounds (school measurements)
2015 statistics: 229 carries for 1,691 yards (7.4 average), 19 touchdowns. Twenty-four catches for 244 yards (10.2 average), TD.
Game tape watched: Miami (Oct. 10, 2015), North Carolina State (Nov. 14, 2015), Florida (Nov. 28, 2015)
What I liked: Cook's biggest assets are his suddenness and home-run ability. He is always a threat to go the distance and only needs a small crease. He has a slithery running style and can make defenders miss without gearing down. He is quick to locate the cutback lanes and explodes through the line of scrimmage. He has an effective stiff-arm when he gets to the second and third levels of a defense. In the passing game, he has strong hands and shows the ability to pluck the ball off his back hip. He is too fast for linebackers to match up with underneath and he destroys pursuit angles once he turns up the field after the catch (see TD vs. Miami). I was pleasantly surprised with his pass-protection skills. He is aware and shows the ability to chest-up linebackers as well as effectively cut-block them through the thigh pad. He will occasionally pop and fall off his block, but overall he's ahead of the curve in this area. His competitiveness is outstanding. He never looks to get out of bounds. He fights for every yard.
Where he needs to improve: He isn't an ideal short-yardage back. He needs a little bit of a runway and lacks lower-the-shoulder power. Once he builds up speed, he can pull through arm tackles or stiff-arm opponents. However, he won't be able to generate space with pure, raw power at the line of scrimmage. He has the frame to carry another 10-15 pounds and that would help him in this area.
Biggest takeaway: Cook is an electric playmaker. He reminds me so much of Chris Johnson when he was playing at East Carolina. He might gain limited yards on five consecutive carries, but then he'll pop one for a score of 60-plus yards. He produced a run of 30-plus yards in nine different games last fall. He doesn't quite have the same top speed as Johnson (Cook should run in the high 4.3s/low 4.4s in the 40-yard dash) but he has similar suddenness and explosiveness. He can play on all three downs and is a threat to score from anywhere on the field.
I can't wait to see him play ... Ole Miss on Sept. 5. The FSU-Clemson game is always must-watch football, but I'm most looking forward to the opener against Ole Miss. That game will take place on a Monday night. The Rebels lost a lot of talent to the 2016 NFL Draft, but they return one of the nation's best signal-callers in Chad Kelly. This could be a fun shootout.