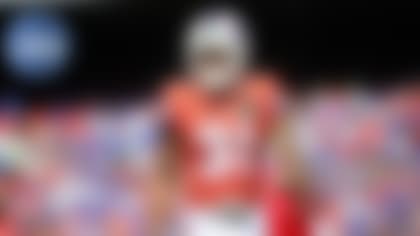 Editor's note: NFL Media analyst and former NFL scout Daniel Jeremiah takes a "first look" at college football's top players for 2016. This is the 10th in a series of scouting reports that will run throughout the offseason.
Florida struggled on offense last fall, but the Gators had one of the most dominant defenses in the country. They lost several of their top defenders to the NFL draft (Vernon Hargreaves, Keanu Neal and Jonathan Bullard) but they return one of the most gifted cornerbacks in the country. Jalen Tabor started gaining some buzz in personnel circles last fall. While studying Hargreaves, it was impossible for evaluators to ignore the cornerback on the opposite side of the field. I've had a chance to study four of Tabor's games. Here's my scouting report.
Jalen Tabor, junior CB, Florida
Height, weight: 6-foot, 199 pounds (school measurements)
2015 statistics: 40 tackles (21 solo), four for loss (one sack). Four interceptions, 14 pass breakups.
Game tape watched: Missouri (Oct. 10, 2015), LSU (Oct. 17, 2015), Florida State (Nov. 28, 2015), Alabama (Dec. 5, 2015)
What I liked: Tabor has excellent size, versatility and ball skills. He lines up outside, in the slot and occasionally over the tight end. He has success playing both press and off coverage. From off coverage, he shows an impressive closing burst and he is very ball aware. His interception against Missouri is a great example of his ability to extend and attack the football. He can get a little sloppy at times in press coverage but he has the makeup speed to recover. He is a loose, fluid athlete who can match up with both the smaller, quicker receivers as well as the bigger, more physical pass-catchers. His ball production is outstanding.
Where he needs to improve: He needs to continue to polish his technique (his hands drop in press coverage too often), but that isn't a major concern. My biggest issue with Tabor is his play against the run. He missed a lot of tackles in the games I studied. The LSU game was particularly rough for him. I charted four misses in that game. He left his feet and missed low tackles in every game I watched. He does show a willingness to get involved against the run, but he needs to drastically improve his reliability in this area.
Biggest takeaway: All of the physical tools are there for Tabor. He has ideal size, speed and ball skills. I was surprised that he wasn't a full-time player last fall, but the Gators had a deep secondary. Hopefully he'll stay on the field full time this fall. He reminds me of Kyle Fuller when he was coming out of Virginia Tech. They have similar size, versatility and ball skills, although Fuller was a more dependable tackler in college.
I can't wait to see him play ... LSU on Oct. 8. The Tigers have the most talented player in college football (Leonard Fournette), but they are far from a one-man band. They have one of the top receiving groups in college football, led by Malachi Dupre and Travin Dural, and a quarterback with a high ceiling in Brandon Harris. They will present a huge challenge for Tabor and the Gators. The swamp will be rocking! Can't wait!