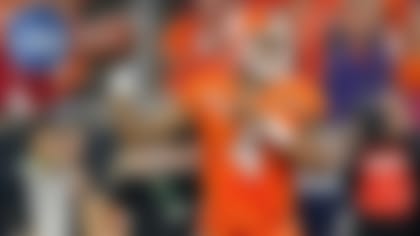 Editor's note: NFL Media analyst and former NFL scout Daniel Jeremiah takes a "first look" at college football's top players for 2016. This is the first in a series of scouting reports that will run throughout the offseason.
I was fortunate enough to attend last season's national championship game between Alabama and Clemson. As we witnessed in the 2016 NFL Draft, the game was loaded with pro prospects. However, one of the biggest stars of that game, Clemson QB Deshaun Watson, will be back on campus for the 2016 season. With the 2016 draft in the rearview mirror and the college football season within sight, it's time to start studying the next wave of great college players. First up: Watson.
Deshaun Watson, junior QB, Clemson
Height, weight: 6-foot-2, 210 pounds (school measurements)
2015 statistics: 333-of-491 (67.8 percent) for 4,104 yards, 35 TDs, and 13 INTs
Game tape watched: Notre Dame (Oct. 3, 2015), Oklahoma (Dec. 31, 2015), Alabama (Jan. 11, 2016)
What I liked: The production is off the charts. Watson can dominate a game with his run-pass skill combination. As a passer, he has a quick delivery and slightly above-average arm strength. He has very quick feet in his setup and throws from a firm base. He shows the ability to throw with touch down the field (see Watson's 31-yard TD pass above to Hunter Renfrow in the national title game vs. Alabama) and has an uncanny ability to escape pressure. He is very accurate on the move, especially when rolling to his right side. As a runner, he has outstanding vision and quickness. He's used quite often in the zone-read game and he makes excellent decisions. He also does a good job of going down or getting out of bounds to avoid taking huge shots.
Where he needs to improve: First of all, he needs to get bigger and stronger. He has a lean and narrow frame, but he should be able to add another 10-15 pounds. As a passer, he needs to do a better job of reading coverage post snap. This offense does a beautiful job of setting up a defense and then cashing in with big plays. However, there are times when Watson will predetermine his target and throw the ball without seeing the field. His interception vs. Alabama is an excellent example. His target won the one-on-one matchup, but Watson failed to see the over-the-top defender, resulting in an easy interception. His ball placement also needs work. He misfires on too many layups underneath. While he excels at escaping pressure, I'd like to see him do a better job of maneuvering within the pocket.
Biggest takeaway: Watson is an outstanding playmaker at the college level but he needs to improve in the passing game. Jared Goff and Carson Wentz were both superior as pocket passers in college. Watson has a similar skill set to Marcus Mariota, but Mariota is bigger, faster, stronger and more accurate.
I can't wait to see him play ... Florida State on Oct. 29. The Clemson-FSU game has become one of the best rivalries in college football. Both programs have done an outstanding job of recruiting and developing top-tier NFL talent. I can't wait to watch Watson take on the challenge of facing a very fast and physical Seminoles defense. Watson has the benefit of a healthy offseason (he was coming off a knee injury last year), and he should be more explosive this fall. He'll need to be at his best in order for the Tigers to beat the Seminoles in Tallahassee.