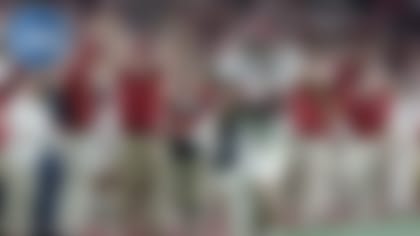 Editor's note: NFL Media analyst and former NFL scout Daniel Jeremiah takes a "first look" at college football's top players for 2016. This is the 11th in a series of scouting reports that will run throughout the offseason.
Alabama always seems to land the top recruiting class in the country. One of its biggest recruits last spring was a player already on the roster. Most NFL evaluators expected talented TE O.J. Howard to declare for the 2016 NFL Draft following an incredible performance against Clemson in the national championship game. However, Howard decided to return to Tuscaloosa for his senior season. That was welcome news for head coach Nick Saban and offensive coordinator Lane Kiffin. Howard should be a focal point of the Crimson Tide's offense this fall. I broke down three of Howard's games from last season. Here is my scouting report.
O.J. Howard, senior TE, Alabama
Height, weight: 6-foot-6, 242 pounds (school measurements)
2015 statistics: 38 receptions for 602 yards and 2 TDs.
Game tape watched: LSU (Nov. 7, 2015), Michigan State (Cotton Bowl, Dec. 31, 2015), Clemson (National championship, Jan. 11, 2016)
What I liked: Howard has a potent blend of size and speed. NFL scouts measured him at just under 6-foot-6 (6-5 3/4) and he ran a mid 4.6 40 time in the spring. He has outstanding play speed and that was on display in the national championship game. He was able to get on top of coverage a few times, and he also showed the ability to take a quick underneath throw and turn it into a huge gain. He is a very fluid route runner and he tracks the ball naturally over his shoulder. He has a large catching radius, and strong, reliable hands. I was pleasantly surprised with his competitiveness and effectiveness in the run game. He doesn't display a lot of power to create movement at the point of attack, but he knows how to shield and wall off defenders on both the front side and back side of the play. He also shows the agility to adjust in space, and latch onto linebackers and secondary defenders.
Where he needs to improve: Howard is a phenomenal athlete, but he hasn't mastered the finer points as a route runner. He's very smooth, but he doesn't set up defenders and he's not crisp at the top of his route. He allows inferior athletes to stay on his hip. Alabama's offense had a lot of mouths to feed last fall (most notably Heisman winner Derrick Henry), but I still feel as though Howard was grossly underused. I expect him to be targeted more this fall and that should increase his production. (His marginal production was a bit of a concern for scouts last fall.) He also needs to continue to add some strength and bulk, which will help him in both the run and passing games.
Biggest takeaway: Howard has all of the tools to be an elite player at his position. He's big, explosive and versatile. He can play with his hand on the ground, as an H-back or even split out wide. He is a matchup nightmare for linebackers because of his speed, and he has a major size advantage over secondary defenders. I see some similarities to Greg Olsen of the Carolina Panthers when he was coming out of Miami (Fla.). Olsen has continued to improve throughout his career and is currently one of the top tight ends in the NFL. Howard has a long way to go to get to that level, but he has the tools to get there.
I can't wait to see him play ... LSU on Nov. 5. The Tigers are loaded with talent this year and they should challenge Alabama for SEC supremacy. Howard will have his hands full trying to block the uber-talented Arden Key in the run game, and he will be tasked with escaping the tight coverage of Jamal Adams, arguably the top safety in the country.