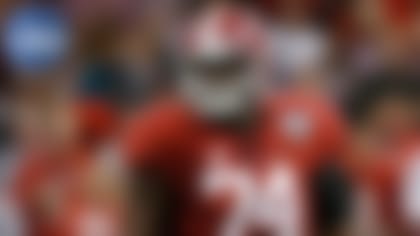 Editor's note: NFL Media analyst and former NFL scout Daniel Jeremiah takes a "first look" at college football's top players for 2016. This is the 17th in a series of scouting reports that will run throughout the offseason.
Cam Robinson arrived at Alabama with high expectations and he's more than lived up to them through the first two seasons of his college career. Last fall, he anchored an offensive line that paved the way for a Heisman Trophy winner (Derrick Henry) and he was a major reason Alabama captured another national championship. I had a chance to go back and study three of Robinson's games from the 2015 season. Here's my scouting report.
Cam Robinson, junior offensive tackle, Alabama
Height, weight: 6-foot-6, 327 pounds (school measurements)
Game tape watched: Texas A&M (Oct. 17, 2015), LSU (Nov. 7, 2015), Clemson (Jan. 11, 2016)
What I liked: Robinson is a dominant run blocker. He has the power to create a lot of movement at the point of attack and he's athletic enough to reach and cut off on the back side. He takes good angles when he works up to the second level and he is athletic enough to pick off second-level defenders on outside pulls. He has a good feel for combo blocks and he looks to finish every rep. In pass protection, he has a strong lower base to anchor down vs. power rushers and he has a powerful, sharp punch to keep defenders off his chest. I like the fact that he gets a chance to play against the best pass rushers in college football. It makes for an easy evaluation.
Where he needs to improve: Robinson's biggest issue shows up in pass protection. He has a tendency to overextend and get caught off balance. He shows the ability to drop his weight and bend at the knees but there are too many examples of him bending at the waist in the games I studied. There are also a few instances where he is late off the ball, undersets and is forced to reach and grab edge rushers instead of squaring them up. I believe both of these issues are correctable. A district attorney declined to prosecute Robinson following his offseason arrest, but the incident didn't reflect favorably on him or the Alabama program. His off-the-field decision making will be something NFL evaluators closely monitor for the remainder of his college career.
Biggest takeaway: Robinson plays with a nasty edge and looks to finish to and through the whistle on every snap. Some offensive tackles have a clock in their head and will hit the cruise button when they assume the play is over. Robinson doesn't do that. There is a great example of my point in the LSU game. He maintains his effort on a broken pass play for a very long time. I love that. He has some things to work on in pass protection, but he has all of the necessary tools to succeed at the next level. Robinson reminds me of Andre Smith when he was playing at Alabama. Both guys are people-movers in the run game and easily handle power rushers in the pass game.
I can't wait to see him play ... Texas A&M on Oct. 22. I really enjoyed watching Robinson battle Aggies defensive end Myles Garrett last fall and I can't wait to see them go at it again. Robinson more than held his own last year, but Garrett did get around him for a sack. Both of these players are elite NFL prospects and this is a tape that will be thoroughly studied by NFL evaluators.