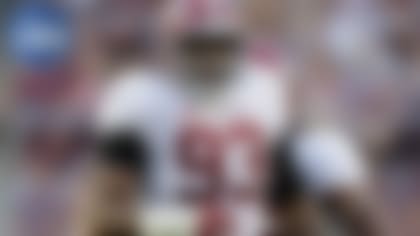 Editor's note: NFL Media analyst and former NFL scout Daniel Jeremiah takes a "first look" at college football's top players for 2016. This is the fifth in a series of scouting reports that will run throughout the offseason.
Alabama lost a ton of talent in the 2016 NFL Draft. They could've lost much more talent. There were a handful of Crimson Tide underclassmen who considered applying for early draft entry before electing to return to Tuscaloosa. Of those returning, none will make as big of an impact as defensive lineman Jonathan Allen. He led the team in sacks last fall and is arguably the top senior defensive player in the country. I watched him play live twice last fall, and I've since gone back and studied three of his games. I'll share what I learned in this scouting report.
Jonathan Allen, senior DL, Alabama
Height, weight: 6-foot-3, 294 pounds (school measurements)
2015 statistics: 36 tackles (19 solo), including 14.5 for loss (12 sacks). Four pass breakups and 6 QB hurries. Two forced fumbles.
Game tape watched: Texas A&M (Oct. 17, 2015), Mississippi State (Nov. 14, 2015), Clemson (Jan. 11, 2016)
What I liked: Allen has an outstanding combination of hand quickness, awareness and strength. He is a model technician when it comes to the hand battle against blockers. Against the run, he shoots his hands immediately, generates some knock back at the line of scrimmage, locates the ball and then aggressively dumps the blocker. As a pass rusher, he rarely exposes his chest to blockers. He has a variety of hand moves to generate pressure. He uses a quick swipe, club/rip or push/pull move very effectively. He is at his best when he's lined up over the guard. He uses his quickness and power to overwhelm interior blockers on a consistent basis. He is also excellent on twists. He is very aware vs. screens and he avoids getting caught upfield. His effort is outstanding and his production is superb.
Where he needs to improve: Allen's versatility is a big plus, but I believe he'd be better served to play inside at the next level. When he's coming off the edge, he lacks a pure burst and I think he would have trouble dealing with NFL-caliber offensive tackles on a consistent basis. Also, I love his effort on the back side of plays, but he lacks the elite speed/quickness to make a lot of plays when the ball goes away from him.
Biggest takeaway: Technician. That is the word that comes to mind after studying Allen. NFL defensive line coaches could easily compile a teaching tape based on how he attacks and gets off blocks. He can survive at defensive end on run downs if needed, but I believe he's ideally skilled to be a very disruptive defensive tackle at the next level. There will be very little assembly required once he lands on an NFL team. For an early comparison, I'd lean toward the Titans' Jurrell Casey. They have similar body types and both players have outstanding hand quickness.
I can't wait to see him play ... USC on Sept. 3. Alabama will square off against USC in what I consider the marquee matchup of college football's opening weekend. While both teams will be breaking in new signal-callers, there is plenty of NFL-caliber talent on both sides of the ball for each team. Allen will be going up against a veteran offensive line, including mammoth offensive tackle Zach Banner. This will likely be the biggest offensive line Alabama will face this fall. I can't wait to see how Allen performs against both the run and the pass. This will be a must-see game for NFL evaluators.