The draft is nearly six months away, but the hype machine is already in overdrive building up prospects into transcendent superstars at the next level.
Now, I know that I've certainly contributed to the speculation throughout the fall by strongly stating my beliefs about a handful of players in the 2014 class with the talent and potential to make an immediate impact in the NFL. While those opinions are rooted in my experiences as a player and scout in the NFL over the past 20 years, I try to balance my personal evaluations with a solid understanding of what general managers, coaches and scouts prefer based on the current landscape of the league.
At the quarterback position, in particular, I've been greatly influenced by my experience playing with the likes of Jim Kelly, Brett Favre and Rich Gannon, so my view of a franchise quarterback might be a little different based on watching them put their respective teams on their backs when it was needed. Additionally, I've been impacted by my time around Mike Holmgren, Jon Gruden, Kevin Gilbride, Dan Henning and Mike McCarthy. Although their respective development styles were different, I closely observed how each would maximize the talent at the position and put players in a position to succeed.
Based on those experiences and observations, I believe we should pause a bit before anointing Central Florida's Blake Bortles as the next great franchise quarterback. Now, I know I might be the dissenting voice on his potential based on the buzz that is building in his favor, but I believe the tape reveals a good, not great, college player. That doesn't mean that I can't see a handful of teams viewing him as a future starting quarterback, but I didn't see an elite player when I studied the tape. Here are my thoughts on the fastest-rising prospect in college football:
The speed and quickness of pass rushers in the NFL requires the quarterback to possess enough mobility to avoid defenders in a collapsing pocket. While extraordinary running skills are required, the threat of a mobile quarterback certainly adds a dimension to the offense. Bortles is not a dynamic dual-threat playmaker from the pocket, but he is an above-average athlete with the quickness and agility to make things happen on the perimeter. He capably executes some zone-read concepts for the Knights, while also showing sneaky running skills on designed quarterback runs. As a passer, he shows adequate balance and body control throwing on the move. He makes strong throws rolling to his right or left, and consistently delivers pinpoint passes within the receiver's strike zone. Given his athleticism and on-the-move throwing skills, Bortles could play in any offensive system in the NFL.
Arm strength is overrated in the evaluation process, but elite quarterbacks in the NFL are capable of working the entire field from the pocket. From the deep comeback on the sideline from the opposite hash to the "hole shot" delivered down the boundary against Cover 2, quarterbacks must be able to throw the fastball (zip and velocity) or change-up (touch or finesse throws) based on the reaction of the defense. Bortles certainly shows the ability to make those throws on tape. Although he plays in an offense that features a lot of bubble screen and quick passes, Bortles shines when given the chance to push the ball down the field on traditional pro throws like curls, comebacks and "Bang-8's" (skinny posts). He routinely puts the ball on the receiver's proper shoulder and his superb ball placement results in completions despite tight coverage. Of course, Bortles missed a handful of receivers on the aforementioned routes during my film study, but his errant tosses were the result of shoddy footwork and lower-body involvement. If he can refine his mechanics and technique, he should be able to make consistent throws at the next level without a problem.
To succeed in the NFL, a quarterback must be able to thrive amid a chaotic pocket. Although most offensive coordinators will craft schemes to keep the quarterback upright in the pocket, the best signal-callers in the game exhibit the poise, awareness and courage to deliver accurate strikes with defenders in close proximity. Looking at Bortles' performance over the past two seasons (2013: Akron, South Carolina, Louisville and Penn State; 2012: Ohio State, Missouri and Marshall), I believed he has grown tremendously in this area, but he remains an inconsistent passer under duress. He will fall off his throws to avoid contact up the middle; the drifting floaters routinely hit defenders in the chest. Some of Bortles' fundamental flaws can be corrected with coaching, but shoddy footwork under duress could lead to big problems at the next level, where defensive coordinators ratchet up the pressure immensely against young quarterbacks.
Ranking the bowl teams' prospects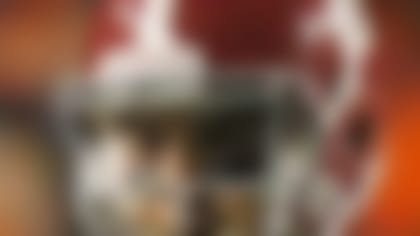 From Alabama all the way down to Navy, Bucky Brooks ranks every bowl team -- all 70 of them -- based on the quality of each team's top NFL draft prospects. **More ...**
The difference between the pro game and college game routinely comes down to the number of responsibilities placed on the quarterback at the line of scrimmage. NFL coaches will ask the quarterback to set or direct the protection, while also instructing the receivers and running backs on potential hot routes or sight adjustments. Additionally, quarterbacks are asked to read coverage in the pre- and post-snap phase to determine the route progression in complex passing games. Given the mental gymnastics required at the position, NFL coaches prefer quarterbacks with some experience in those areas.
Looking at Bortles' performance at Central Florida, he appears to have complete control of their offense at the line of scrimmage. He frequently barks out signals during the pre-snap phase and points out potential rushers prior to the snap. While it appears that the scheme has swing routes and quick screens built into most of his route progressions to serve as hot routes, Bortles deserves credit for identifying his outlets quickly when he notices blitz pressure. Additionally, he earns commendable marks for taking care of the ball by generally making wise decisions in the pocket.
If I had to point out an area of concern, I would cite his struggles against elite defenses (South Carolina, Ohio State and Missouri) as a possible issue. In those games, he appeared fooled by late-moving coverage and threw a handful of interceptions on telegraphed throws over the middle. Without the benefit of seeing Bortles perform in a college all-star game, it will be tough for scouts and coaches to determine if he was spooked by the speed and athleticism of those respective teams or simply misread a few routes that resulted in turnovers.
Quarterbacks are measured by their ability to perform in big games and critical situations (two-minute, red-zone and third-down). Elite quarterbacks not only thrive in those situations, but they live for the challenge of excelling with the game on the line. Bortles has been terrific in these situations this season, but the sample size has been small. He delivered a handful of key plays against Louisville and SMU to rally his team back from late-game deficits. In those performances, he was deadly accurate when he needed to make big-time throws, which says a lot about his poise and confidence in the clutch. He also displayed those traits directing his team to a win over Penn State on the road. Although the Nittany Lions are a bit undermanned due to NCAA sanctions, the fact he was able win a big game on the road is a huge.
On the other hand, the argument could be made that Bortles hasn't faced an elite defense outside of South Carolina this season, so it's hard to determine how he would fare against the slate of teams Johnny Manziel, AJ McCarron, Marcus Mariota or some of the other notable prospects have faced this season.
Bortles is an intriguing quarterback prospect with the desirable physical dimensions and talent to be a coveted player in NFL draft rooms. He has improved steadily throughout his career, and notched a few distinguished wins that will lead some evaluators to see him as a franchise-caliber quarterback. However, I believe it is important to keep his value in perspective when comparing him to the recent classes of quarterbacks that have produced the likes of Andrew Luck, Cam Newton, Robert Griffin III and Russell Wilson. While each of the aforementioned players has endured a varying degree of struggles in the NFL, there wasn't any doubt about their talent or dominance at the collegiate level. They stood out on game tape and looked like Day 1 NFL starters (most didn't expect Wilson to be the star he has become, but most believed he was a natural leader and exceptional talent despite his diminutive dimensions).
Looking at Bortles on tape, I simply don't get those feelings. I see a good player with a lot of upside, but I don't see a transcendent star that will significantly change the fortunes of a dismal franchise. Now, that doesn't mean he can't be an effective starter for a team, but I believe it will take him some time to develop into a solid player as a pro.
When a scout is placing a grade on a prospect, he must take that potential into account, and I can't place a top-10 grade on a quarterback that is good, not great, at this time. Bortles strikes me as a prospect comparable to Nick Foles coming out of college. While Foles has exceeded expectations to this point of his career, the jury is still out on whether he will truly become a franchise quarterback. That's how I see Bortles, which is why I would grade him as a borderline first-round prospect at this point. He can start and win games in the NFL, but he will need some time to develop in the right system to become an impact player as a pro.