The top general managers and coaches in the NFL understand that the league is not only about player acquisition, but it's about player development, particularly for players in the trenches.
With the NCAA's restrictive 20-hour rule limiting the on-field development of players, NFL executives expect even top prospects to enter the league with raw, unrefined games. As a result, scouts are willing to put big grades on players with impressive physical attributes but inconsistencies in significant parts of their games.
That's why I'm fascinated by the evaluation of Minnesota defensive tackle Ra'Shede Hageman. The 6-foot-6, 311-pound senior is one of the most explosive athletes in college football, yet he hasn't put it together on the field. He flashes disruptive potential as an interior defender, amassing 18.5 tackles for loss, eight sacks and 11 pass breakups over the past two seasons. Sure, those numbers represent solid production for an interior defender, but it's not the kind of output that screams first-round prospect in my opinion.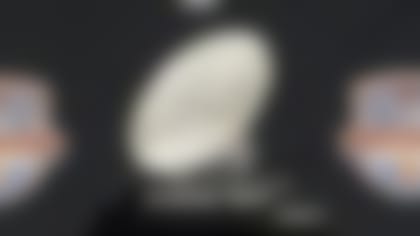 From the game that kicks off bowl season to the grand finale see who the College Football 24/7 experts like to win in every bowl game. **More ...**
With a few days to dig into the tape before Hageman wraps up his career in the Texas Bowl, I analyzed his game to see if he has the potential to be a franchise-caliber defender at the next level. Here are my thoughts:
Hagemen is unquestionably one of the most explosive athletes in college football. According to a report from noted college writer Bruce Feldman, the Golden Gopher standout has posted some impressive measurements in the weight room. Hageman has recorded a 36-inch vertical jump and clocked an astonishing 1.57-second 10-yard split in the 40-yard dash. Factor in his reported 465-pound bench press, and Hageman will be expected to rank among the top performers at the NFL Scouting Combine in a few months.
For context, J.J. Watt recorded a 37-inch vertical and blazed a 4.84-second 40-yard dash (1.64 split at the 10-yard mark) at the 2011 NFL Scouting Combine. Those numbers made him one of the top performers at the event; it set the stage for him to emerge as the 2012 Defensive Player of the Year. Thus, there will be several coaches and scouts that will see Hageman as a potential impact player who simply needs the right kind of instruction to bring his talents to the surface on the field. While there is certainly plenty of risk with this line of thinking, it will not stop a handful of NFL teams from viewing Hageman as someone who could blossom into a superstar as a pro based solely on his athleticism and movement skills.
Defensive coordinators place a significant emphasis on stopping the run, particularly when evaluating defensive tackles. Hageman shows tremendous promise as a run stopper in the middle of the defense. As a one- (aligned over the center) and three-technique (positioned over the guard) in the Gophers' scheme, Hageman displays enough strength and power to hold the point against single and double teams. Although he plays too high at times, he is rarely knocked off his spot and effectively clogs up holes with his presence. From a technical standpoint, he will need to work on his leverage, pad level and hand quickness to succeed against interior blockers at the next level. Hageman doesn't take full advantage of his superior arm length, but if he learns to keep blockers at bay, he could make a greater impact at the point of attack on shed and disengage plays.
Against runs to the outside, Hageman flashes speed, quickness and burst in pursuit. He has the potential to run down ball carriers from the backside with his long, loping strides. Although he doesn't consistently give the extra effort to make those plays, Hageman stands out when he revs it up and displays fanatical effort on run downs. Looking at his standout performance against Nebraska, it was his initial quickness and burst against the run that impressed me the most. If he can find a way to bring those talents to the surface consistently, Hageman could be an upper-echelon playmaker at the next level.
The gradual shift of the NFL into a league governed by the pass makes it imperative for elite defensive tackles to display strong rush skills. Hageman is a credible rusher with the size, strength and quickness to create a consistent push up the middle. The Gophers' standout has tallied eight sacks over the past two seasons, with a pair of sacks this season. Additionally, he has totaled 10 pass break ups and 18.5 tackles for loss during that span. While those numbers don't necessarily jump off the stat sheet, they speak to his potential as an interior rusher in an aggressive scheme. Hageman is athletic enough to loop around the corner on "T-E" games (defensive end crashes inside gap, while defensive tackle loops behind and around the end to come off the edge), but also displays the strength to attack on power moves up the middle. Looking at Hageman operate as a pass rusher, I believe he is at his best when used on the move in the Gophers' scheme. Although he doesn't exhibit exceptional first-step quickness, he accelerates quickly up the field and does a good job of working through cracks to get into the quarterback's face. This hasn't resulted in a ton of sacks, but his combination of sacks, pressures and breakups are enough to make him a dangerous weapon on the interior. If he can improve his snap count anticipation and hand usage, there isn't any reason why he can't produce six to eight sacks a season as an interior rusher as a pro.
Elite defenders make their mark on every game by routinely delivering a handful of disruptive plays. These plays not only result in negative yardage or turnovers, but they alter the way opponents craft their future game plans. Hageman has all of the athletic potential to be disruptive force on the interior, but he hasn't fully developed the technical skills to unleash his natural talents on opponents. Now, he has been moderately successful relying on his raw skills, but elite blockers exploit his rudimentary game and effectively neutralize him at the point of attack. Although Hageman produces occasional flash plays that make coaches and scouts take notice, he doesn't dominate the game the way a 6-6, 311-pound freakish athlete should at this stage of his career. He disappears for long stretches in games, and doesn't consistently display the urgency or motor needed to be a difference maker at the next level. Given the importance of owning the line of scrimmage at the NFL level, Hageman needs to show scouts he can be a disruptive defender at the point of attack. He hasn't done it enough to justify the buzz surrounding his game at this time.
Hageman will be one of the hottest prospects in the 2014 class in the spring. He will tantalize evaluators with his freakish athleticism and superior physical dimensions, but his game tape doesn't match his natural talent at this time. Although Hageman's production has been solid over the past two years, he hasn't dominated elite competition consistently. Additionally, he has shown an unrefined game that needs some touch-up work by a quality NFL defensive line coach.
Now, that isn't a bad thing, but it is something that must be factored into the evaluation when considering Hageman's short- and long-term potential. He is not ready to assume a major role as a first-year starter, but could be blossom into a difference-maker down the road. In fact, I believe that Hageman could become a Pro Bowl-caliber five-technique (defender aligned over top of the offensive tackle) in the mold of Calais Campbell in a 3-4 defense. While he has only played a few snaps at the position, he is a natural fit with his length and athleticism. He is strong enough to be a "two-gap" player, while also displaying the agility to move on stunts and games. Additionally, Hageman's experience at the one- and three-technique would give him the versatility to play in the hybrid 3-4 schemes that are currently the rage in the NFL.
Based on his size, athleticism, versatility and overall potential, I believe Hageman will get drafted much higher than his film grade would suggest. While I would rate him as a second-round player (rotational player with the potential to start by the end of his first season), I believe several teams will view him as a late first-round talent based on his upside and potential. If he puts in the work on the practice field and film room, Hageman could be the kind of difference-maker that transforms a good defense into a great one. However, there is no guarantee that he will ever reach his potential despite his remarkable talent, which is why he could fall into the "boom-or-bust" category by draft day.