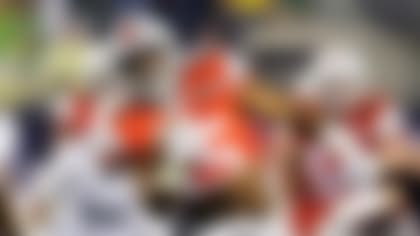 NFL scouts are always looking to the college ranks to find next-level talent, and while it's too early to speculate about which running backs will thrive in the NFL, these 10 rushers certainly have the attention of evaluators heading into the 2015 season.
This is not a list previewing the 2016 NFL Draft, but a look at college running backs that are already generating interest from NFL scouts. Here are 10 to watch in 2015.
1. Ezekiel Elliott, Ohio State
Elliott averaged over 230 rushing yards per game over the final three games of last season, which included a Big Ten championship game and two College Football Playoff wins. While Cardale Jones received deserved accolades, the Buckeyes don't win the national championship without Elliott's massive performances following the loss of J.T. Barrett to injury. Elliott has the prototype build and combines burst with an urgent running style. Elliott's playing style should translate quickly to the NFL, but he could stand to improve his vision as a runner this season.
While studying Chubb's 2014 tape, it was hard to decipher who was the better back between Chubb and a healthy Todd Gurley. Chubb was that good. This year, Chubb should dominate the SEC with his outstanding play speed, physical rushing style and elite balance. His ability to change directions and hit top speed quickly helps him maximize his yardage against athletic SEC foes, and few runners in the conference see the field as well as Chubb. He won't catch anyone by surprise this season, however, and he better get used to the swarm tackling he is sure to see this season.
3. Samaje Perine, Oklahoma
Perine has a new offensive coordinator who is moving towards an Air Raid approach, but I would be very surprised to see the Sooners stray too far away from Perine. Oklahoma lost three capable starters from the offensive line, but its spread formations should give Perine plenty of room to gash defenses even if his carries are reduced. Arm tackles are shredded when Perine powers through the line of scrimmage, and he's very efficient with his movement keeping his runs moving forward. Perine will get a chance to show whether or not he can be a capable receiving threat this season.
The departure of Marcus Mariota could (and should) signal a greater reliance upon the running game, which means a monster year could be headed Freeman's way. Thanks to Oregon's up-tempo offense, Freeman could very well end up with 300-plus carries this season, which could swing his production near the 1,800-yard, 25-touchdown range. Freeman's edge speed tends to catch defenses off guard, but it is his thick frame that should lend itself to an even more dominating brand of football from the true sophomore. With increased confidence and carries, Freeman could be set up for a run at the Heisman.
There is nothing flashy about Conner. The 250-pound tailback doesn't look like he's moving very quickly and isn't particularly elusive, but he is more than happy to play the role of battering ram. When defenses wear down -- and they almost always do -- Conner takes full advantage chewing up chunks of yards at a time. Conner created 71 missed and broken tackles last year and was as good as any runner in the nation at finishing near the endzone with a total of 26 rushing touchdowns. When the NFL comes calling, Conner might need to trim down and increase his quickness.
6. Leonard Fournette, LSU
LSU loves to run rotating running backs at defenses, but is that really a wise decision in 2015 with the intimidating Fournette waiting to roll downhill? Fournette barely scratched the surface of what he's capable of considering his rare combination of size, strength and speed. Reports from LSU indicate we should look for a lighter and quicker Fournette, which should benefit him as he must learn to be more creative and elusive within the first three yards of the line of scrimmage in order to maximize those special traits and hit more big plays. I'm expecting a big jump forward in 2015.
Booker reminds me of a lighter version of Matt Forte. He is a probing zone-scheme runner who darts seamlessly in and out of creases depending on how the defense is flowing. Booker has smooth feet and easy ability to transition from cut to cut. If that isn't enough to worry about, Booker torments defenses as an outstanding pass catcher, as well. Booker ended 2014 with 335 touches and, while he isn't a bruising runner, 54 percent of his rushing yards came after first contact. With Booker returning for his senior season, we'll see if the Utes dial Booker back in order to limit his wear and tear.
8. Jonathan Williams, Arkansas
Loose hips and quick feet are the calling card for Williams, who is surprisingly agile and nimble for a back his size. Williams will share carries with Alex Collins, which should keep both running backs fresh. With four starters returning up front for the Hogs, Williams is in a great spot to shine in the SEC West. Thanks to his outstanding lateral movement and instincts as a runner, defenses rarely get a clean shot on Williams. He must improve upon his five fumbles in 2014.
9. Kenneth Dixon, Louisiana Tech
Dixon had 27 rushing touchdowns as a freshman and 22 last season as a junior. Want to know why? He hit those marks because he wants it more than anyone else on the field. Dixon combines outstanding stop-start ability with feathery feet, which allows him to weave and slash as well as most backs in the game. Dixon is a creative runner who plays with a level of determination on each run that is so much fun to watch. While he's not small, Dixon doesn't possess natural power behind his pads and has to work harder than most to maximize his carries.
While Trevone Boykin will get the national attention, Green's stat sheet should be a thing of beauty game after game. Green is a creative runner with instant change-of-direction skills that allow him to cut and go without gearing down. Green features outstanding play speed over the first 20 yards, and he's a smooth pass catcher with a chance to create matchup issues out of the backfield. The only real knock on Green is that he's a little undersized and could stand to be a strong run finisher.
Alex Collins, Arkansas: Collins has a great feel for traffic as he moves through the line of scrimmage. His ability to change direction with ease is reminiscent of former Alabama running back T.J. Yeldon. Collins' 12 fumbles over his last 394 carries has NFL scouts concerned.
Byron Marshall, Oregon: Marshall is a super-twitch athlete with explosiveness oozing from his very being, but he's a 'tweener who is more likely to be an NFL slot receiver.
Derrick Henry, Alabama: Henry should put up some numbers this season, but he's more of a grinder than a creator and his long legs make it hard for him to get up to top speed quickly. Still, he will make defenses feel it when he's getting downhill.
Johnathan Gray, Texas: While I'm still not sold that Gray's game will translate to the NFL, I do think we will see him double his rushing totals from 2014 thanks to his field vision, willingness to finish his runs and five returning starters on the offensive line.