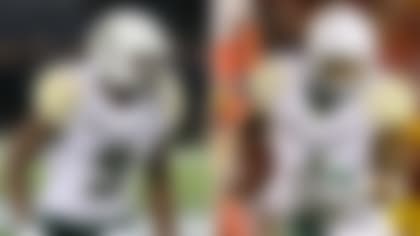 There might not be a more dangerous position to have two proven, standout players in the college game today than wide receiver. Offenses are passing more than ever, defenses are struggling to keep pace, and there never seem to be enough cornerbacks up to the task. College Football 24/7's look at the game's top tandems continues with a look at some of the most prolific receiving combinations entering the 2015 season.
10. Colorado: Nelson Spruce and Shay Fields
The skinny:The conversation here definitely begins with Spruce, who caught 106 passes last year for 1,198 yards and 12 touchdowns. Spruce, the son of a former professional body builder, is a strong candidate for this year's Biletnikoff Award and is complemented by Fields, who made 50 catches of his own last season for the Buffaloes. Fields (5-11, 170) was only a freshman last season, so expect more from CU's No. 2 option this fall.
9. Oklahoma: Sterling Shepard and Dede Westbrook
The skinny:With Westbrook transferring in from Blinn Community College, this pairing has an element of projection to it, but it's not much of a leap to expect big things from these two. Westbrook shredded his competition last year with almost 1,500 yards in just eight games, and is expected to step into a starting role immediately. Shepard pulled in 51 catches last year and led the Sooners in receiving yardage (970). He's proven as one of the Big 12's top receivers and could be helped by Westbrook's presence on the other side of the field.
8. Cincinnati: Shaq Washington and Mekale McKay
The skinny:Bearcats quarterback Gunner Kiel couldn't ask for more of a contrast in styles in his top two receivers. Washington (5-9, 174) overwhelms defensive backs with his quickness and led the team with 66 catches for 761 yards last year. McKay, on the other hand, stands 6-6 and is a money target in the red zone with more size and length than AAC cornerbacks can handle (44-725-8 last season). He and Washington will be together for one more season, and Kiel should make it a highly productive one.
7. Texas A&M: Josh Reynolds and Speedy Noil
The skinny:The Aggies' high-flying passing attack will again have a deep group of receivers. It's headlined by Reynolds, who led the team last year in yardage (842), yards per catch (16.2) and touchdowns (13). Noil returns after an exciting freshman season in which he showed a knack for the spectacular. Noil is also a dynamic kickoff and punt returner, but his real value will be in making things easy for second-year quarterback Kyle Allen.
Take a look at the top 10 players from Penn State to play in the NFL.
6. Penn State: Geno Lewis and DaeSean Hamilton
The skinny:As quarterback Christian Hackenberg looks to improve on a dismal season, one thing he won't have to worry about is the wide receiver position. Hamilton caught 82 passes for 899 yards in his first season as a starter, foretelling big things to come from the third-year sophomore. Lewis, a senior, caught 55 passes for 751 yards. If the PSU offensive line is improved, the numbers for both receivers should jump along with Hackenberg's progress.
5. Oregon: Darren Carrington and Devon Allen
The skinny:Yes, Carrington could have to sit out a good portion of the season on NCAA suspension (he reportedly failed an NCAA-administered drug test ). However, Carrington will at some point join Allen at the top of the Ducks' receiving rotation, barring any setbacks for Allen, who is coming off of surgery to repair an ACL tear. They had 704 and 684 yards last year, respectively. Those aren't huge totals, but the UO offense distributes the ball like few others. More telling is their explosiveness, averaging 19.0 and 16.7 yards per catch.
Check out the top 10 players from Notre Dame to play in the NFL.
4. Notre Dame: William Fuller and Corey Robinson
The skinny:Fuller was one of 36 receivers in the FBS to crack the 1,000-yard mark in receiving yards last season (1,094). Only a sophomore, he delivered 15 touchdowns for the Fighting Irish offense and was selected as the team's offensive player of the year. Robinson added 539 receiving yards on 40 receptions and five touchdowns. With defenses sure to roll more safety help to Fuller's side this fall, Robinson should see his share of single-man coverage. And at 6-4, 215 pounds, he'll be hard to handle in those situations.
3. Colorado State: Rashard Higgins and Xavier Williams:
The skinny:This is definitely a Batman-and-Robin kind of duo, as Higgins dwarfed the production of all his fellow receivers last season. He led the entire FBS in receiving yards with 1,750 on 96 receptions, with an FBS-best 17 touchdowns as well. Williams caught 30 passes for 430 yards. With a new quarterback taking over in Fort Collins, the ball could be distributed a bit more evenly this fall. Still, Higgins was a deserving Biletnikoff finalist last year and will be the best receiver in the Mountain West once again.
Check out the top 10 players from Clemson to play in the NFL.
2. Clemson: Artavis Scott and Mike Williams
The skinny:Scott made a splash as one of the top freshmen in the country last year, leading the Tigers in receptions with 76 (965 yards, 8 TDs). He's not very big at 5-10, 190, but he's the playmaker Deshaun Watson needs in his first full year as a starter. Williams (6-4, 210) gives Watson a bigger target. He led the team in receiving yards (1,030) and will create plenty of havoc for ACC cornerbacks this fall.
1. Baylor: KD Cannon and Corey Coleman
The skinny:Where else can one find two 1,000-yard receivers on the same squad? Cannon exploded onto the Big 12 scene as a true freshman last year (58-1,030-8), while Coleman was even more productive as a third-year sophomore (64-1,119-11). They won't have Bryce Petty to throw them the ball anymore, but in the Bears' prolific offense, their numbers will be fine with Seth Russell under center, err, in the shotgun.
Sun Belt: Georgia State, Robert Davis and Donovan Harden