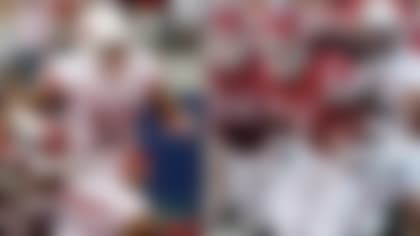 We continue our look at the best positional tandems in college football, taking into account both college production and pro potential, with running back duos. You can find the best offensive line duos here and we'll delve into wide receivers, defensive linemen, linebackers and defensive backs later this week.
(As an added bonus, we'll also list the best duos in each league if that league is not represented in our top 10.)
10. Marshall: Devon Johnson and Remi Watson
The skinny:Johnson exploded onto the scene last season and had a big role in making the Thundering Herd a contender for a New Year's Six Bowl until the very end of the year. His explosiveness (8.6 yards per carry) and between-the-tackles ability led him to an impressive 1,767 yards and 17 touchdowns on the ground. He teams up with Watson to form a dangerous backfield, as the latter is coming off of his best season in green (546 yards and six scores). Quarterback Rakeem Cato is gone, but the team should have no issues breaking in a new QB, as the offense can lean on these running backs.
9. West Virginia: Rushel Shell and Wendell Smallwood
The skinny: Known for their passing attack, the Mountaineers have a pretty good rushing combo to help out the offense, too. Shell, a former blue-chip recruit who transferred from Pitt, put up 788 yards and seven scores in his first action for WVU last season. His inside running complements Smallwood nicely, and the latter rushed for 722 yards last season. A junior, Smallwood is one of the better all-purpose backs in the Big 12.
8. Toledo: Kareem Hunt and Terry Swanson
The skinny:The MAC is home to plenty of talented rushers, but it's hard to find a duo better than the Rockets'. Hunt was one of the more dominant players you might not have heard of last season: 1,631 yards (8 yards per carry) and 16 touchdowns. He was dominant against top competition, too -- he put up 148 yards on Missouri, averaging nearly 10 yards a carry against future NFL defensive linemen. He likely would have eclipsed 2,000 yards rushing had he not missed time with an injury last season, but backup Terry Swanson is no slouch, either. He racked up 732 yards and six scores in 2014.
Check out the top 10 players from Florida State to play in the NFL.
7. Florida State: Dalvin Cook and Jacques Patrick
The skinny:Jimbo Fisher will miss Jameis Winston at quarterback, but he still has a highly talented weapon to turn to in Cook. He topped 1,000 yards as a true freshman last season and really came on strong late in the year as the top option out of the backfield. Mario Pender and Jonathan Vickers are nice complements, but believe the hype about Patrick, a true freshman. He enrolled early and impressed everybody around the program. He should be a perfect complement to Cook's burst and versatility.
6. Ohio State: Ezekiel Elliott and Bri'onte Dunn
The skinny:The Buckeyes wisely chose to ride Elliott down the stretch last season and he played a leading role in the team's run to a national title. The junior enters 2015 as a top Heisman Trophy candidate. Dunn was a heralded recruit and hasn't quite turned into a star runner. However, he showed flashes in limited reps on offense and on special teams last season. This season is his time to step up. Ohio State would move up on this list if Braxton Miller were to move to tailback full-time.
5. Alabama: Derrick Henry and Kenyan Drake
The skinny:Henry will garner some Heisman buzz, and it would be warranted, as he's the focal point for the Crimson Tide offense. It will be his show following the departure of T.J. Yeldon to the NFL and few defenders in college football are able to bring down the hulking running back without the help of a teammate (or teammates). He'll be joined by Drake, who has progressed well from a leg injury. He's one of the faster backs in the country and averaged 7.5 yards per carry last season. He's looking to be the lightning to Henry's thunder.
4. Georgia: Nick Chubb and Keith Marshall
The skinny:Chubb was the SEC's freshman of the year after ably filling in for Todd Gurley with the Bulldogs. He rushed for 1,547 yards and 14 touchdowns in 2014 and should be looking to improve on those stats as a bona fide Heisman Trophy contender. Marshall has been injured quite a bit over the course of his college career, but was actually more highly touted in high school than Gurley and has shown plenty of flashes when healthy. Throw in sophomore Sony Michel, and UGA has an impressive stable of backs.
Check out the top 10 players from Oregon to play in the NFL.
3. Oregon: Royce Freeman and Thomas Tyner
Heisman Trophy winner Marcus Mariota has moved on to the NFL, but the Ducks still have plenty of skill-position talent left on the roster, starting with "Rolls" Royce Freeman. The Pac-12 Freshman Offensive Player of the Year in 2014, he rolled up 1,365 yards and 18 touchdowns despite coming off the bench in several games. He's a big back (230 pounds) who is just as shifty as some backs smaller than him. Tyner, a former five-star recruit, has been a contributor since he arrived on campus and really came on strong last season, rushing for 124 yards and two scores against FSU in the Rose Bowl. He's also one of the fastest players in the country.
2. Oklahoma: Samaje Perine and Alex Ross
The skinny:Perine burst onto the radar in 2014 for many folks when he broke Melvin Gordon's week-old FBS record for rushing yards in a single game. He's back for a sophomore year that carries high expectations and it appears he's ready for the test. While Perine will be the workhorse, he'll team with the equally dangerous Alex Ross, who will also be one of the better kick returners in the country in 2015. He averaged 6.8 yards per carry last season. Don't forget about redshirt freshman Joe Mixon, a five-star back who was suspended for the 2014 season.
Take a look at the top 10 players from Arkansas to play in the NFL.
1. Arkansas: Jonathan Williams and Alex Collins
The skinny:The Hogs love to run the ball, so it should be no surprise that they have a pair of studs in the backfield. Both players rushed for more than 1,000 yards last season and could be better than ever in 2015. Collins, a junior, is looking to eclipse the 1,000-yard mark for the third consecutive season.
AAC:Houston, Kenneth Farrow and Ryan Jackson
Independents:Notre Dame, Tarean Folston and Greg Bryant
Mountain West: San Diego State, Donnel Pumphrey and Chase Price
Sun Belt:Georgia Southern, Matt Breida and L.A. Ramsby