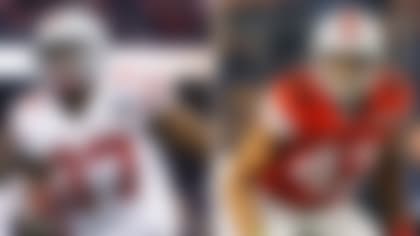 College Football 24/7's series examining the top position tandems in college football continues with the linebacker position, where one dominant player is never enough. In some cases, it's hard to discern which of the two is the better player, while in others, there is no question. Across the board, however, these pairs of linebackers will cause offensive coordinators plenty of sleepless nights this fall.
(As an added bonus, we'll also list the best duos in each league if that league is not represented in our top 10.)
10. Wisconsin: Vince Biegel and Joe Schobert
The skinny: The Badgers' starting outside linebackers present an imposing presence to opposing offenses on either side of the line. Biegel was true disruptor last year for the Badgers, making a team-high 16.5 tackles for loss and 7.5 sacks. Schobert made 69 stops and 13.5 for losses, giving he and Biegel a combined 30 TFLs.
9. Auburn: Cassanova McKinzy and Kris Frost
The skinny: Both upcoming seniors who decided to return to AU rather than leave early for the NFL, the Tigers' top two linebackers were virtual mirror images of one another in terms of production last year. McKinzy edged Frost 91-87 in tackles, 60-59 in solos, and 11-10 in tackles for loss. Each had an interception and a fumble recovery. McKinzy plays middle linebacker while Frost cleans up the cutbacks from the weakside position. The Auburn defense has a question mark or two, particularly in the secondary, but the linebacker position is rock solid thanks to this pair.
8. Louisville: James Burgess and Keith Kelsey
The skinny: If you're old enough to remember the mid-'90s Florida Gators, Kelsey's name should ring a bell. His father, of the same name, played at UF. Junior is making his own name at his own school, however, and is the team's leading returning tackler with 87. He came up with six sacks and will be a key figure in a defense trying to replace six NFL draft picks. Burgess, like Kelsey, a Florida native, was credited with 71 stops and 10 tackles for loss as a junior last year.
7. Georgia: Leonard Floyd and Jordan Jenkins
The skinny: After a somewhat disappointing sophomore season, Jenkins rebounded last year as a junior to post 70 tackles, 9.5 tackles for loss, five sacks, and earned the team's most improved player honor. He's back for one final year, which should be his best yet at the college level. Floyd is a quick, sleek pass rusher off the edge, but the pressure he applied (17 hurries) translated into just six sacks. That's a solid total, but for a player who rushes the passer full-time, it wasn't a dominant showing. This fall, Floyd is a strong candidate to break into the double-digit sack range.
6. Arizona: Scooby Wright and Cody Ippolito
The skinny: Truth is, Scooby Wright and Scooby Doo would probably make a good linebacker tandem. That's the kind of impact Wright delivers for the Wildcats, an impact that was never more evident than when he stripped Oregon star Marcus Mariota for a late turnover that clinched an upset over the Ducks last season. The favorite to win the 2015 Butkus Award amassed 163 tackles, 29 tackles for loss and 14 sacks. Ippolito manned the strongside position for Arizona last year and logged 6.5 tackles for loss in just six starts. He'll be looked to for more consistent production in 2015.
5. Florida State: Terrance Smith and Reggie Northrup
The skinny: Forget for a moment that Northrup is coming off an ACL tear in FSU's playoff game against Oregon; his 122 tackles last year led the team by a margin of 29 stops. If healthy again in 2015, he'll have a chance to be the top linebacker in the ACC. Smith gave some thought to entering the 2015 NFL Draft, but in January he opted to return for his senior season. He plays his best in the big games (13 tackles vs. Clemson, 11 vs. Notre Dame, INT return for TD vs. rival Florida). FSU lost a lot of talent to the NFL draft up front and in the secondary, so Smith and Northrup will be counted on for leadership.
4. Oklahoma: Eric Striker and Jordan Evans
The skinny: The difference between these two is clear enough: Striker is the big-play guy on the outside, while Evans gets the more thankless duty of playing the middle linebacker spot and defending the A and B gaps. Striker piled up 17.5 tackles for loss and nine sacks last season, both team highs, while Evans made 93 tackles, including a team-high 55 solo stops. As much as any tandem listed here, these two complement each other especially well.
3. UCLA: Myles Jack and Deon Hollins
The skinny: Jack gets all the attention with his dynamic play and occasional action at running back, but Hollins' contributions last year were too good to be overlooked in the shadow of Jack and second-round draft pick Eric Kendricks. It was Hollins who led the team in sacks last year with nine, and even though he made just 31 tackles, his ability to rush the passer will be a key for the Bruins this fall. Jack made 88 stops, second on the team to Kendricks. And while Hollins is going after the quarterbacks, Jack's ability to cover the pass is second to none.
2. Notre Dame: Jaylon Smith and Joe Schmidt
The skinny: Smith is unquestionably one of the most athletic linebackers in the country, and NFL Media analyst Daniel Jeremiah has already taken notice. By the end of the season, Smith could find himself in the Butkus Award conversation. He led the team with 112 tackles last year, nine for losses, and his ratio of solos-to-assists was outstanding (65-47). Schmidt was well on his way to a 100-tackle campaign himself before an injury cut his season short at eight games. He made 65 stops and hopes to team with Smith for a full season as a graduate student in 2015.
1. Ohio State: Joshua Perry and Darron Lee
The skinny: How valuable are Perry and Lee to the Buckeyes' defense of the national title? They amassed 205 tackles between them last season, ranking first and third on the team, respectively. Lee has been more of a playmaker, ranking only behind star defensive end Joey Bosa in tackles for loss and sacks. Perry, meanwhile, is a 6-foot-4, 255-pound rock of an inside linebacker with an unparalleled nose for the ball. With 124 stops and 73 of them solos, the senior is indispensable.
Mountain West: Boise State, Kamalei Correa and Tanner Vallejo
AAC: East Carolina, Zeek Bigger and Montese Overton
Sun Belt: Louisiana-Monroe, Hunter Kissinger and Michael Johnson