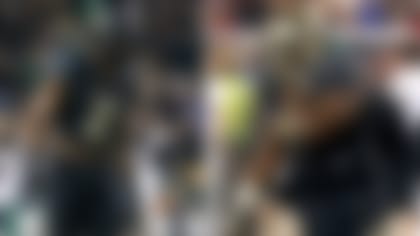 Batman and Robin. Beer and wings. Bert and Ernie. Tom and Jerry. Scotch and soda. Butch and Sundance. Hall and Oates (OK, OK, we're getting carried away here).
Anyway, life is filled with dynamic duos, and College Football 24/7 continues its series looking at the best positional tandems in college football, taking into account both college production and pro potential. Today, it's the best defensive linemen duos from college programs across the country.
(As an added bonus, we'll also list the best duos in each league if that league is not represented in our top 10.)
10. UCLA: Eddie Vanderdoes and Kenny Clark
The skinny: Vanderdoes gets more notoriety for his time spent at fullback, but the defensive lineman is a multi-year starter and one of the toughest players to block because of his relentless motor and top-notch quickness. He teams with Clark, who really shined last year as a second-team All-Pac-12 performer and is equally adept at stopping the run as he is rushing the passer.
9. Auburn: Montravius Adams and Carl Lawson
The skinny: A mammoth presence in the middle of the defense from early in his career on the Plains, Adams is expected to make the jump from very good to great in 2015 after being one of Auburn's best defensive linemen last season. New defensive coordinator Will Muschamp must already be excited at building around Adams. His play should be enhanced by the return of Lawson, who missed last season with an ACL injury but showed he was a quality pass rusher as a true freshman.
8. Alabama: A'Shawn Robinson and Jarran Reed
The skinny: Robinson didn't have the stats of other defensive linemen on this list. But make no mistake: he's a beast in the middle of any defense. Few are able to shoot the gap as quickly as he does, and his strength is readily apparent to anybody who goes against him one-on-one. He teams up with Reed, who chose to return to the Crimson Tide for his senior season in order to continue to progress as one of the top linemen in the SEC. It says plenty about Nick Saban's defense that you could also consider a number of other individuals to team with Robinson for this list.
7. Louisville: Devonte Fields and Sheldon Rankins
The skinny: Fields is expected to be a starter for the Cardinals after clearing up a number of legal issues dating back to his time at TCU, where he was named Big 12 Defensive Player of the Year as a freshman. His transfer will boost a defense that lost a number of quality pass rushers. It appears Fields regained some of his form from two seasons ago during his junior-college stop at Trinity Valley by recording 6.5 sacks in 2014. He'll team up with Rankins, who recorded eight sacks as a full-time starter for Louisville and seemed to cause offenses problems with his size.
6. Tennessee: Derek Barnett and Curt Maggitt
The skinny: All Barnett did as a true freshman for the Vols was rack up 10 sacks and set numerous Tennessee and SEC records as a relentless pass rusher. One of the biggest bright spots on a young team, he'll figure to see more double-teams in 2015 but seems qualified to handle them given his skill set and size. He teams up with Maggitt, who led the team in sacks last season. Barnett will show off his versatility by also playing linebacker in addition to defensive end depending on the situation.
5. Michigan State: Shilique Calhoun and Lawrence Thomas
The skinny: Calhoun didn't have his best year in 2014 but was still very, very productive: eight sacks and 12.5 tackles for loss. The second-team All-American returned to school for his senior season and figures to battle Ohio State's Joey Bosa for just about every defensive line award ... nationally. Calhoun has a tremendous teammate in Thomas, who moved around during his first few years in East Lansing but has turned into a monster as of late. His ability to play both inside and outside creates a matchup nightmare and his quickness should help improve his sack total even more.
4. Ole Miss: Robert Nkemdiche and Marquis Haynes
The skinny: The Land Sharks are in good hands despite some personnel losses from last year thanks to this pair of studs on the defensive line. Nkemdiche has lived up to his five-star billing as one of the best players in the SEC. He is still able to get to the quarterback despite often drawing a double-team. His versatility is a plus depending on the game situation, and fellow Rebels star Haynes burst onto the scene last season and shows no signs of stopping.
3. Virginia Tech: Dadi Nicolas and Ken Ekanem
The skinny: One reason the Hokies were able to knock off eventual champion Ohio State was the play of their top-notch defensive line. Nicolas racked up an impressive 18.5 tackles for loss to go with nine sacks and was a constant presence in the backfield with his high motor. Running mate Ken Ekanem led Virginia Tech with 9.5 sacks a season ago and forced plenty of teams to run away from his side of the field. Throw in the recovering Luther Maddy, and defensive coordinator Bud Foster's defense will be no joke in the trenches in 2015.
2. Ohio State: Joey Bosa and Adolphus Washington
The skinny: Bosa figures to be on the shortlist for every major defensive award after dominating down the stretch during the Buckeyes' run to a national title. He combines a great blend of size, speed and quickness to become a terror off the edge and is borderline unblockable for most offensive tackles. Washington has turned into an interior beast and will be looking to build off a quality 2014 season in which he was often double-teamed.
1. Baylor: Shawn Oakman and Andrew Billings
The skinny: Oakman is one of the most physically imposing players in the country at defensive end and has continued to refine his technique in order to improve on his 11 sacks in 2014. Billings is coming off a first-team All-Big 12 performance as a sophomore and is extremely tough to block. Plus, he's an accomplished weightlifter you don't want to cross. The Bears are known for their flashy offense, but this pair of defenders helps give the team a shot at the College Football Playoff this season.
AAC: Temple, Praise-Martin Oguike and Matt Ioannidis
CUSA: Louisiana Tech, Vontarrius Dora and Vernon Butler
Independents: Notre Dame, Sheldon Day and Isaac Rochell
MAC: Toledo, Trent Voss and Treyvon Hester
Mountain West: Boise State, Kamalei Correa and Armand Nance
Sun Belt: Arkansas State, Ja'Von Rolland-Jones and Chris Stone