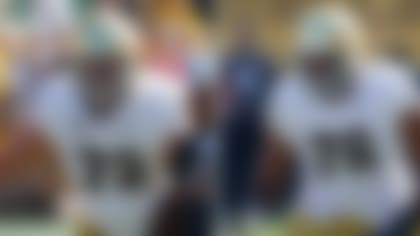 Batman and Robin. Beer and wings. Bert and Ernie. Tom and Jerry. Scotch and soda. Butch and Sundance. Hall and Oates (OK, OK, we're getting carried away here).
Anyway, life is filled with dynamic duos, and today we begin a series looking at the best positional tandems in college football, taking into account both college production and pro potential. Today, it's the best offensive line duos; next week, we'll delve into running backs, wide receivers, defensive linemen, linebackers and defensive backs.
(As an added bonus, we'll also list the best duos in each league if that league is not represented in our top 10.)
10. TCU: C Joey Hunt and OT Halapoulivaati Vaitai
9. Indiana: G Dan Feeney and OT Jason Spriggs
8. LSU: OTs Vadal Alexander and Jerald Hawkins
7. Wisconsin: C Dan Voltz and OT Tyler Marz
6. Stanford: G Joshua Garnett and OT Kyle Murphy
Check out the top 10 players from Notre Dame to play in the NFL.
5. Notre Dame: C Nick Martin and OT Ronnie Stanley
4. USC: C Max Tuerk and OT Toa Lobendahn
3. Alabama: C Ryan Kelly and OT Cam Robinson
2. Michigan State: C Jack Allen and OT Jack Conklin
1. Ohio State: G Pat Elflein and OT Taylor Decker
Best OL duo in AAC: East Carolina, G/C J.T. Boyd and OT Ike Harris
Best in Conference USA: Rice, G Andrew Reue and OT Caleb Williams
Best in Mid-American: Western Michigan, G James Kristof and OT Willie Beavers
Best in Mountain West: Boise State, C Marcus Henry and OT Rees Odhiambo
Best in Sun Belt: South Alabama, C Joseph Scelfo and OT Chris May
Mike Huguenin can be reached at mike.huguenin@nfl.com. You also can follow him on Twitter @MikeHuguenin.