INDIANAPOLIS -- Dorial Green-Beckham hasn't played football at full speed in 13 months. In the time since, he's had two run-ins with the law, and he's been thrown off his home state U's football team.
And he'll arrive at the 2015 NFL Scouting Combine this week with more to lose -- or gain -- than any of the other 322 prospects.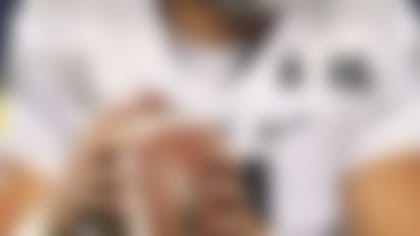 In advance of the draft, Marcus Mariota and others will look to showcase their skills at the combine (Feb. 17-23), only on NFL Network. **SCHEDULE**
But no one has more on the line than this raw, 6-foot-6, 225-pound piece of football clay, whose talent on the field is matched only by his problems off it. Physically, Green-Beckham brings more to the table than Cooper or any other receiver in the '15 class. Problem is, the rest of his file isn't nearly as simple to sort through.
"He's one of the best receivers I've ever seen," said one AFC college scout who has extensive experience evaluating Green-Beckham. "He's special. He's gigantic; he has tremendous body control, balance; he runs like a deer and can leap out of the gym and high-point the ball. He's special. It's impressive. If not for all that stuff, he'd be the best receiver to come out since Calvin Johnson."
Now, the scout concedes that the 21-year-old is raw, and there is opposition to the rest of his assessment. Another AFC scout affirmed the Johnson comparison physically, but said, "He's not a slam dunk. He runs two routes." An NFC personnel executive added, "I wanna compare him to (Randy) Moss. ... I saw one play where he took off and dusted a corner, and said, 'He looks like Calvin.' But play in, play out, he doesn't play to Calvin's speed." An AFC exec argued that inconsistent hands and route-running keep Green-Beckham from that level.
But cut through all that parsing -- how much work he needs, who he might look like -- and there's enough left to see clearly how special an athlete he is.
And that's just where the story gets complicated.
Green-Beckham spent his early childhood under heartbreaking circumstances, eventually landing in foster care before being adopted by his high school coach, who helped harvest the world of ability he brought to the table. By the time the phenom arrived at the University of Missouri, it was as the No. 1 high school prospect in America. By October of that year, he had his first publicized brush with trouble.
As a freshman, Green-Beckham was arrested on campus with two other football players on possession of marijuana charges. He later plead guilty to reduced charges. Fifteen months later, he was busted again, with two other men, this time with about a pound of marijuana. He was initially booked on felony charges, according to the Springfield News-Leader, but formal criminal charges were never filed.
Three months after that, last April, an 18-year-old Missouri student told police that Green-Beckham forced his way into her apartment at 2:30 a.m. and pushed her down a set of stairs while looking for his girlfriend. Police closed the case days later, citing reluctant witnesses fearing retaliation.
And that was it for Green-Beckham -- who also, according to information gathered by three NFL teams, failed multiple drug tests as a Tiger -- in Columbia. On April 11, Gary Pinkel dismissed him from the program.
"He's very immature," said the first of the AFC scouts, having evaluated Green-Beckham closely. "People like him as a guy, but you cannot defend the off-field incidents."
One example of people liking Green-Beckham: Pinkel helped him find his next landing spot, vouching for him with his friend Bob Stoops at the University of Oklahoma. Green-Beckham transferred to Norman, with the Sooners hoping he'd obtain a waiver allowing him to play in 2014. When that effort failed, and the NCAA decided Green-Beckham had to sit a year in accordance to the transfer rules, many worried he'd revert to his old ways.
By all accounts, that didn't happen. According to the information gathered by a number of NFL evaluators, Green-Beckham walked the straight and narrow as, in essence, a very well-known practice-squader last fall. He was there for early-morning workouts, quickly established himself as a star on the practice field and planned to stay for the 2015 season. Those plans changed after the firing of co-offensive coordinator Jay Norvell, with whom Green-Beckham had built a strong relationship, but the gifted prospect was able to leave OU under much better circumstances than he did Mizzou.
Brooks: Grading 2014 rookie classes
In a division-by-division series, Bucky Brooks reviews 2014 draft classes. Plus, team-specific primers for the 2015 combine. **READ**
Attempts to reach Stoops and Pinkel for this story were unsuccessful, though an Oklahoma source spoke highly of Green-Beckham, who declined an interview request through his representatives.
Of course, the counter argument here is that it's not that difficult to behave for a few months with so much on the line.
And the question then becomes whether it's sustainable.
The climate in the NFL has changed since last year's draft. The scrutiny regarding domestic violence has been ratcheted up in the wake of the Ray Rice and Greg Hardy cases, and the new Personal Conduct Policy promises harsher treatment for offenders in that and plenty of other areas.
And then there's Josh Gordon, another receiver with a world of talent who, by the end of next season, will have nearly as many games missed for disciplinary reasons (29) as he has games played (35), and whose story has become a cautionary tale for clubs looking to roll the dice.
Green-Beckham's reputation among NFL talent evaluators isn't quite like that of Gordon, who simply couldn't put the weed down after spending most of his life around it and had some self-esteem issues; nor is Green-Beckham seen in the same category as was Dez Bryant, whose difficult upbringing left him behind from a social-maturity standpoint.
No, Green-Beckham's story is more of the superstar who was always able to get away with whatever he wanted to because of his enormous ability. Yes, again, he faced incredibly difficult circumstances growing up. But by the time he was a teenager, he had a more comfortable life and was insulated by people who wanted to see him succeed.
Still, the basic question with Green-Beckham is the same one that was asked about Gordon and Bryant when they were entering the NFL: Can he stay out of trouble long enough to realize the boundless potential he carries?
"He's enabled, spoiled," said the NFC personnel executive, who did work on Green-Beckham during the receiver's time at Mizzou and Oklahoma. "Whatever everyone else was doing, he'd do it to be cool, trying to fit in."
A second NFC personnel exec added, "He's a good-hearted kid who needed a structured environment. At Mizzou, he was around a bunch of kids that weren't right for him. ... At Oklahoma, he was clean, did everything he was supposed to do. He wasn't crazy about school, but he was compliant."
Another name that pops up in discussions about Green-Beckham: Justin Blackmon, the former No. 5 overall pick of the Jacksonville Jaguars who's currently serving an indefinite suspension for repeated violations of the league's substance-abuse policy and hasn't played in a game since October 2013. Though the former Oklahoma State star's character wasn't flagged predraft to the same degree as the aforementioned trio, the belief among those in Jacksonville and elsewhere is his issues have gotten substantially worse since.
Here's one thing everyone agrees on: Green-Beckham's interviews this week will be critical.
He'll need to nail those. To show the four months at Oklahoma were a new beginning, and not a means to an end. To show he can grow as a football player, and pick up a pro offense. To show that all that ability is worth gambling on.
And running a great time in the 40-yard dash -- to prove he's the freak most think he is -- would be nice, too.
Free of all his transgressions, Green-Beckham likely would be landing in Indy with a name to rival anyone in this class, including the two Heisman Trophy-winning quarterbacks, Winston and Marcus Mariota.
As it is, he'll arrive with a lower profile, but with more riding on the next few days than those two -- and virtually everyone else.