Black Friday is a day for shoppers searching for sales, so it shouldn't be a surprise that NFL scouts will be flocking to see quarterbacks Derek Carr of Fresno State and David Fales of San Jose State on Friday in the hopes of finding a potential bargain in the 2014 NFL Draft.
"That was the first game I circled on my calendar this year," an NFL scout told the San Jose Mercury News. As of Wednesday, 15 scouts were scheduled to attend the game.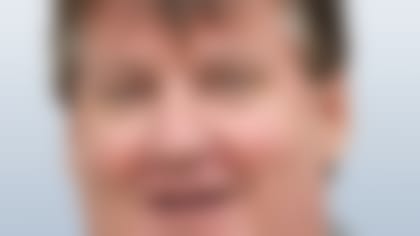 Fresno State and Northern Illinois are both unbeaten non-automatic qualifiers that could crash the BCS party. See which teams Mike Huguenin projects to go to bowl games. More ...
Carr leads the FBS in passing touchdowns (39), passing yards per game (394.3) and total offense per game (404.7), directing the Bulldogs to an 11-0 record, No. 16 ranking in the BCS, and a berth in the Mountain West Conference championship game.
Coming off a school-record seven passing touchdowns in a romp over New Mexico, the younger brother of fomer No. 1 overall draft pick David Carr now checks in at No. 2 in NFL Media analyst Bucky Brooks' QB rankings.
Carr also checks in at No. 33 on NFL Media analyst Gil Brandt's Hot 100 list of top seniors, while Fales is No. 57.
Carr has a solid build (6-foot-3, 218 pounds) and elite arm-strength, whereas Fales is regarded as more of a prototypical signal-caller for a West Coast offense.
In his midseason update of the top 100 seniors in college football, Gil Brandt has UCLA LB Anthony Barr No. 1 and a previously unranked player in his top 5. More ...
Without head coach Mike MacIntyre, who left to take the top job at Colorado, Fales' accuracy has dropped to 62.2 percent after completing an FBS-best 72.5 percent of his passes last season. With 3,642 passing yards and 27 touchdowns through 11 games, however, Fales (6-3, 220) would likely exceed his production from that 11-2 season if the Spartans could upset Fresno State to reach a bowl game.
Because of this game's significance, Fales hasn't been drawn into the "Carr vs. Fales" storyline.
"I'm really just worried about my side," Fales said. "It's exciting for everybody else when you've got two guys who are doing really well this year. But do I get more excited? I'm really just focusing on the defensive side. I haven't watched any film on him."
And while the focus has been on the underclassmen that could make the Class of 2014 an historic quarterback crop, Carr and Fales could prove to be even better buys.