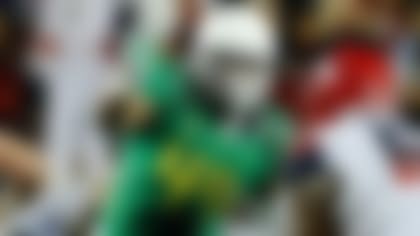 NFL scouts are always looking to the college ranks to find next-level talent, and while it's too early to speculate about which interior defensive linemen will thrive in the NFL, these 10 certainly have the attention of evaluators heading into the 2015 season.
This is not a list previewing the 2016 NFL Draft, but a look at college interior defensive linemen that are already generating interest from NFL scouts. Here are 10 to watch in 2015.
1. DeForest Buckner, Oregon
Buckner might have been drafted ahead of teammate Arik Armstead (selected 17th overall in the 2015 draft) if he had come out after last season, but going back to Oregon will almost certainly elevate his draft stock. Buckner can play in either a 4-3 or 3-4 as a defensive end. Offensive lines knew where he was at all times and forced him to earn his sacks and pressures, but his tape shows an impressive spin move and arm-over that he already uses effectively as a pass rusher. With the size and strength to control the line of scrimmage and alter running games, Buckner should give Pac-12 offensive linemen the blues this season.
2. Robert Nkemdiche, Ole Miss
They don't look any better in the uniform than Nkemdiche does with his chiseled, low-body-fat frame. He plays with exceptional athleticism and runs with the fluidity of a defensive end. His ability to attack the gaps helps to frustrate linemen who are slow off the snap and his lateral quickness is what helps make the Ole Miss stunts so tough to deal with. Nkemdiche rarely sits on a block and rides it out. Instead, he is constantly looking to unhinge and chase. Despite having foot quickness and a decent spin move, Nkemdiche has just 3.5 total sacks over the last two seasons. He's been able to pressure quarterbacks, but hasn't finished as often as expected.
3. Montravius Adams, Auburn
The Auburn coaching staff, including defensive line coach Rodney Garner, has been very vocal about its desire to see Adams play harder on every snap and in every practice. It's also worth noting that Garner sees Adams starting to "turn the corner." What I see is a player with great pad level off the snap who fights back against double teams and who is athletic enough to work himself back into plays where it looks like he is blocked. He shows flashes of the hands needed to be a substantially better pass rusher, but his technique needs more work and consistency. With Angelo Blackson and Gabe Wright gone, Adams should be ready to shine.
4. Anthony Zettel, Penn State
As a former defensive end, Zettel was able to bring more lateral quickness and better hand usage than we are used to seeing from interior defenders. He keeps his eyes glued to the ball, which accounts for his awareness and why he was able to defend eight passes last season. Zettel is undersized by NFL-defensive-tackle standards, which could force him into a 3-4 defensive end spot in the pros. Zettel plays with a good pad level and does an admirable job of holding his ground against base blocks. Based on his athleticism, I think he could be an interesting 3-4 outside linebacker projection if he were to drop some weight.
5. Andrew Billings, Baylor
Billings is built low to the ground with strong legs and is able to combine leverage with play strength to create pass-rushing and gap-shooting opportunities. Baylor's defense runs stunt after stunt as it looks to disrupt blocking schemes, which can work for and against Billings since he can run into and out of a play from snap to snap based on his defensive scheme. Billings can push the pocket or defeat a blocker while attacking his edge. He plays with good lateral quickness and has a closing burst to the ball. Billings will struggle at times against pure power inside, but his ability to play both the run and pass adds to his value.
6. A'Shawn Robinson, Alabama
Robinson managed to post a higher percentage of impact tackles than other, more highly decorated interior linemen thanks to his jarring upper-body power and ability to push single blockers around when he has his nasty on. He plays the 5-technique and over the nose, which gives Alabama much-needed versatility. Robinson, however, has a big issue with his pad level. He plays entirely too upright, which manifests itself with blockers being able to knock him off-balance too easily with down blocks, despite his strength. With more bend, he'll be able to achieve more dominant leverage. Robinson still needs plenty of work as a pass rusher.
7. Sheldon Rankins, Louisville
He might be a bit undersized, but Rankins brings traits to the table that are far more advanced than those of some of the bigger, more heralded names on this list. Louisville lines Rankins up all over the defensive line and he has shown an ability to disrupt upfield or leverage his gap, depending on what the defense asked of him. Despite his limited mass, Rankins plays with a strong, wide base that helps him hold his ground. When it's time to chase the quarterback, he shows above-average athletic ability. As for his production, how does 20 quarterback pressures, 9 sacks, 53 tackles and two interceptions sound? Balance, ball awareness and outstanding hand usage are his most notable traits.
8. Maliek Collins, Nebraska
Right now, the individual traits are better than the sum of their parts for Collins, but the traits are undeniable. Listed at 6-foot-2 and 300 pounds, Collins is built for athleticism over power and it doesn't take long to see just how athletic he is. His feet are always better than the matchup across from him and he can close out ball carriers trying to hit the crease in his neighborhood. Collins can hold his own against single blocks, but he has issues holding up against down blocks and double teams, which he sees constantly during the game. Look for a big jump from his sophomore season to this one.
Power, power and more power. Clark is one of the finest space-eaters in the college game. He has a thick, powerful base and upper-body strength to wrestle his way out of down blocks and double teams. Clark can maintain his position against all comers and has NFL-caliber two-gapping potential at the nose spot. Clark had a combined total of 26.5 run stuffs and impact tackles last season while facing quality offensive line play. Despite being a run eraser, NFL scouts understand that there is a ceiling on his draft stock since he isn't much of a pass rusher and is unlikely to play on passing downs.
10. Adolphus Washington, Ohio State
Washington is a little more linear than we are used to seeing from interior players, but he has room on his frame for more girth. Despite his lack of heft, Washington still brings some gap power and anchor to the table. His 15 pressures and 4.5 sacks came thanks in large part to his ability to use shoulder turns to make himself "skinny" and slide into creases to pressure the pocket. His pad level rises a little high at times, which is why he struggles to recover against redirect blocks, but Washington's overall game and production warrants a spot in the top 10.
Sheldon Day, Notre Dame: Day's athleticism and quickness is so much fun to watch on tape. He has the quickness and leverage to live in the backfield, but for whatever reason, he doesn't have the pass-rushing production to match the traits. With his rare quickness and eye-popping change of direction, I don't see why his production shouldn't skyrocket this season.
Adam Gotsis, Georgia Tech: Gotsis has the build and the skill set to be a 3-4 defensive end in the pros, but he plays in both odd and even fronts for Georgia Tech. Gotsis plays with great coordination between his hands and feet and is able to free himself from blocks to get the win.
Darius Hamilton, Rutgers: Production won't be an issue for Hamilton after racking up six sacks and 24 quarterback pressures last year from his defensive tackle spot. Hamilton is 6-4, but just 266 pounds. However, he has learned to play tough against much larger competitors. Hamilton should have another strong season, but his best shot in the pros will likely be as a 3-4 defensive end.