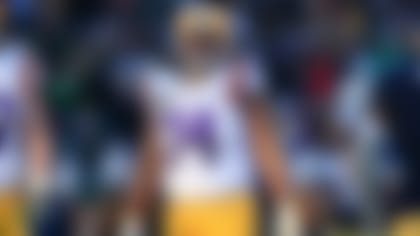 The players are divided into tiers of value: top 20, top 50, top 80, top 120, top 150 and top 200. Note that these are preliminary grades that will likely change based on player performance during the course of the 2015 season, as well as postseason all-star games, the NFL Scouting Combine and pro-day workouts. Some prospect ratings have changed since their initial publication due to continued study of their play as well as the evaluation of others at their position.
Vadal Alexander, G/OT, LSU
After starting for two years next to La'el Collins at left guard, Alexander (6-foot-6, 320 pounds) is expected to move back to right tackle for his senior year. He started the last seven games of his freshman campaign at right tackle, earning Freshman All-American honors. Alexander has shed at least 30 pounds since arriving on campus, giving him a shot to stay at tackle when he arrives in the NFL. Although it's possible Alexander has done enough to land a first-round slot as a guard with his length, strength, and footwork, success at right tackle this season is crucial for Alexander to earn the respect of general managers across the league as a pass protector on the outside.
DeForest Buckner, DE, Oregon
Unfortunately, Buckner (6-7, 290) will be compared to former Ducks defensive lineman Dion Jordan, who was picked third overall in 2013 by the Dolphins and failed to live up to that billing before being suspended for the 2015 season for a third violation of the league's substance-abuse policy. He's not similar to Jordan, though, because his thicker frame portends an NFL career with his hand on the ground; nonetheless, the comparisons will be drawn. Buckner's path toward the 2016 draft is also interesting because while he flashes the skills of a top prospect, better offensive linemen can dominate him, using his tall frame to keep him from getting leverage. If he can improve his stack-and-shed ability and motor while consistently winning the edge, scouts will forget about Jordan and grade Buckner well based on his own merits.
Shilique Calhoun, DE, Michigan State
The two-time second-team Walter Camp All-American piled up 15.5 sacks in his sophomore and junior years and will be going for more in 2015. He smells the ball in the backfield and uses his length (6-5, 250) to wrap up quarterbacks. Calhoun's flexibility around the edge is only fair, so he'll need to beat NFL-caliber tackles around the corner this year to prove to scouts that he can be a consistent pass-rush threat at the next level. If he can also hold his ground and shed regularly in the run game, then he'll earn first-round grades.
Connor Cook, QB, Michigan State
Cook has led the Spartans to 24 wins, thrown for nearly 6,000 yards, and tossed 46 touchdowns (versus just 14 interceptions) over the past two seasons. He has the size (6-4, 220), athleticism, anticipation, toughness, and football intelligence to excel at the next level. He has yet to crack the 60-percent completion barrier in his career (58.1 percent last season) and has a new receiving corps for his senior year. Cook is the most intriguing senior prospect this year. If he can lead an inexperienced passing game to succeed in his final collegiate season, he'll be in line for a very high draft slot.
Taylor Decker, OT, Ohio State
Ohio State's undisputed leader on the offensive line decided to come back for another year in Columbus instead of applying for entry into the 2015 draft, where he might have been a mid-to-late first-round pick. Decker (6-8, 315) will not only get a chance to win back-to-back national titles during his senior year, but also an opportunity to prove he has the natural bend and elite athleticism (to go along with his obvious length, strength, and toughness) to be a top-five selection.
Spencer Drango, OT, Baylor
If anyone is going to challenge Decker for the top senior offensive tackle slot, it will be the 6-6, 313-pound Drango. A four-year starter, there's no questioning his intensity or strength at the line of scrimmage. He has the size and strength to lock onto defensive ends when comfortable, but, like Decker, Drango needs to consistently hit targets in space and hold off top edge rushers with extreme quickness in his last turn in Waco before scouts consider him an elite blind-side protector.
Check out the top 10 players from Georgia to play in the NFL.
Jordan Jenkins, OLB, Georgia
Jenkins, Georgia's Most Improved Player for the 2014 season (9.5 tackles for loss, five sacks), actually started six games as a true freshman and earned second-team All-SEC honors as a sophomore before truly coming into his own as a junior last season. The former five-star recruit has quick hands to beat offensive linemen and deadly straight-line speed. Turning those flashes into long periods of brightness should put Jenkins (6-3, 253) squarely in the top-10 conversation.
Nick Martin, G/C, Notre Dame
His brother, Zack, excelled in his rookie season with Dallas after being selected in the first round in 2014. Nick (6-4, 301) brings versatility along with the family toughness, as he moves between center and guard without an issue. Teams envying the Cowboys' prodigious but athletic front line should consider picking up this Golden Domer.
It doesn't take long to find Oakman on the field, as his 6-foot-9, 280-pound frame and No. 2 jersey stand out even among the Bears' top competition. It was a bit of a surprise when the massive lineman decided to return to school for the 2015 season, as he likely would have been a first-round pick after recording 19.5 tackles for loss (11 sacks) as a junior. But the Penn State transfer wants to be picked at the very top of the draft, and apparently loves being a Baylor Bear. However, lofty expectations are sometimes difficult to live up to; scouts will be looking for consistent explosiveness, leverage, and motor from Oakman, in addition to his bullish strength, before labeling him a "can't-miss" prospect worthy of a top-five pick.
D'haquille "Duke" Williams, WR, Auburn
Halfway through the 2014 season, it looked as though Williams was going to be the second former junior college receiver climbing up draft boards, along with West Virginia's Kevin White. However, a sprained MCL suffered late in the year and suspension for breaking team rules pushed Williams (6-2, 224) to return to school for the 2015 season. One of eight children, Williams won't have a problem sticking out this year if the Tigers' offense can keep rolling after the departure of quarterback Nick Marshall. Teams will be watching to see if Williams can put the passing game on his shoulders as they try to determine whether he's a top-10 pick or a second-rounder with question marks.