South Carolina defensive end Jadeveon Clowney has as quick a first step as any defensive lineman in the college game.
But he hasn't been so quick to start the season.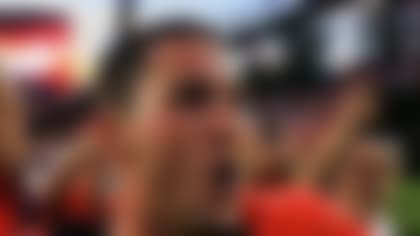 From Aaron Murray's big-game heroics vs. LSU to Oklahoma's statement win at Notre Dame, here are the things we learned from college football's fifth weekend. **More ...**
One of the nation's most highly-regarded juniors made just two tackles, both assists, in a 28-25 South Carolina win over UCF Saturday.
No sacks, no tackles for loss, but not necessarily no impact.
Clowney continues to draw frequent double teaming and other forms of blocking help, which has allowed other Gamecocks defenders to make more plays. Nevertheless, Clowney drew double teaming last season as well, and his drop in production is beginning to become more noticeable. Now four games and one-third of the way into the schedule, Clowney is on pace for just six sacks on the regular season. That would be less than half of his sack production from a year ago (13.5).
Gamecocks defensive coordinator Lorenzo Ward said after the game that Clowney experienced flu-like symptoms late in the practice week, and even required IV fluids at one point. Clowney had made both his stops by halftime, at which point South Carolina held a precarious 10-0 lead.
Clowney is also dealing with painful bone spurs in his right foot that he plans to play through this year, then have surgically removed after the season. That procedure may prevent Clowney from participating in the NFL Scouting Combine, if he declares early for the NFL draft.
Clowney now has 12 tackles on the season.