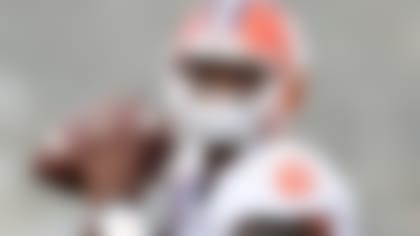 Clemson took the No. 1 spot in the College Football Playoff selection committee's initial rankings Tuesday, followed by No. 2 LSU, No. 3 Ohio State and No. 4 Alabama.
Notre Dame ranked No. 5 and Baylor, despite an undefeated record of 7-0, was ranked No. 6 behind two teams (Alabama, Notre Dame) who have one loss. Baylor's strength of schedule ranking is 109th in the FBS. The top 10 was rounded out by No. 7 Michigan State, No. 8 TCU, No. 9 Iowa and No. 10 Florida.
This weekend's college football schedule is certain to shake up the rankings, including the top four. LSU plays at Alabama, Florida State plays at Clemson, and TCU plays at Oklahoma State. Asked which teams were the most difficult to evaluate, Arkansas athletic director and committee chair Jeff Long pointed directly to the Big 12 Conference, which was left out of the playoff last year.
"It's Baylor and it's TCU because of their strength of schedule and who they've played thus far," Long told ESPN. "I think those teams, particularly Baylor, has an explosive offense and we've seen that. But I think the strength of schedule left us uncertain of their true strength."
The committee will release subsequent rankings each Tuesday through Dec. 1, and will pick the four-team field on Dec. 6. The Capital One Orange Bowl and the Goodyear Cotton Bowl will host the semifinals at 4 p.m. ET and 8 p.m. ET on Dec. 31. The CFP National Championship Game will be held at University of Phoenix Stadium in Glendale, Ariz. on Jan. 11, 2016. The committee will operate with 12 members instead of 13 this year following the resignation of USC Athletic Director Pat Haden.
Last year's initial rankings from the CFP selection committee weren't particularly predictive of the playoff field.
The 2014 rankings opened with Auburn, Mississippi State, Ole Miss and Florida State, only the last of which eventually qualified for the playoff. The Seminoles lost to Oregon in one semifinal, while Ohio State jumped over TCU for a playoff spot and went on to beat Alabama and Oregon for a national championship.
The entire order of the College Football Playoff selection committee rankings: