Clemson offensive coordinator Chad Morris met with the media Monday in advance of Saturday's huge Clemson-Florida State ACC showdown and basically called out Tigers star wide receiver Sammy Watkins.
"You want to be an All-ACC player," Morris told reporters. "You want to be an All-American. You want to be all this and more -- well, those guys show up every day. Those type of guys show up every day and in the big games. This is a big game, and we'll see."
Two years ago as a true freshman, Watkins -- a Florida native -- had a huge game against the Seminoles, catching seven passes for 141 yards and two touchdowns in a 35-30 victory. Last season, though, he had just 24 yards on six receptions in a 49-37 loss. Morris said FSU's defensive backs were far too physical for the Tigers' wide receivers last season.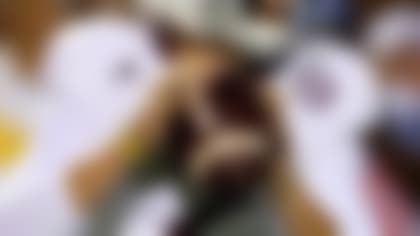 From Johnny Manziel's heroics in a thriller at Ole Miss to Marcus Mariota's dismantling of Washington, here are 37 things we learned from the college football weekend. **More ...**
"I felt like they physically whipped us at the wide receiver position," Morris told reporters. "They embarrassed us. That's been a point of emphasis and will continue to be a point of emphasis. ... I thought our wide receivers spent more time on the ground than the ball did."
Watkins (6-foot-1, 205 pounds) leads Clemson (6-0) and is fourth in the ACC with 36 receptions, for 582 yards (16.2 yards per catch) and four touchdowns. He had a big game against Georgia in the opener with six receptions for 127 yards and a score.
Watkins likely will spend a lot of his time Saturday going against FSU senior cornerback Lamarcus Joyner (5-8, 190), one of the most physical corners in the nation. Joyner also has good speed, so the one-on-one matchups with Watkins should be a delight -- and also will go a long way toward determining who wins the game.
Watkins is Clemson's most explosive receiver, by far. If Joyner and has secondary mates can keep Watkins somewhat under control, the Tigers' chances for a big play decrease greatly.
Clemson and FSU are in the top five in both major polls, and Saturday's game is the biggest in the ACC in a long time. It also is one of the biggest home games in Clemson history, with the winner remaining in the national title hunt and taking a huge step toward the ACC Atlantic Division title.
Unlike a lot of coaches, Morris is embracing the "big game" talk.
"This is what it's about. It's what you coach for," he told reporters. " ... There's not many opportunities as a coach for these. Heck, yeah, it's a big deal."
Mike Huguenin can be reached at mike.huguenin@nfl.com. You also can follow him on Twitter @MikeHuguenin.