Teddy Bridgewater and Louisville grinded out a win over Rutgers in a nationally televised game last Thursday. They will be in the national TV spotlight again Friday, when they take on visiting Central Florida.
The matchup with the Knights is the toughest remaining game on Louisville's schedule. That also means it's the final regular-season chance for Bridgewater to impress against a solid opponent.
Unbeaten Houston gets a chance to impress when it welcomes in a physical BYU team. A Houston win would help the AAC's lackluster national reputation.
Here is a look at all the games involving league teams this week:
5. Army at Temple, Saturday, 1 p.m. ET
The skinny: Temple is one of eight winless teams nationally. Army is guaranteed a bowl bid if it gets to six wins, and if it wants to get to six wins, it would behoove Army to win this.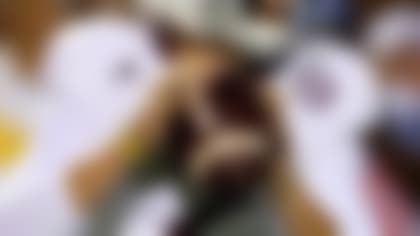 From Johnny Manziel's heroics in a thriller at Ole Miss to Marcus Mariota's dismantling of Washington, here are 37 things we learned from college football's seventh weekend. **More ...**
4. Connecticut at Cincinnati, Saturday, 12 p.m. ET, ESPNU
The skinny: UConn is another of the nation's eight winless teams. Still, there are some good players in this game. UConn junior ILB Yawin Smallwood (6-foot-4, 236 pounds) is second in the AAC and 12th nationally with 64 tackles. Cincinnati senior ILB Greg Blair (6-2, 252) has been inconsistent this season but still has a team-high 41 tackles.
3. SMU at Memphis, Saturday, 12 p.m. ET, AAC syndication/ESPN GamePlan
The skinny: This game could have an impact on each team's bowl-eligibility. SMU senior WR Jeremy Johnson (6-0, 179) will cause problems for Memphis' secondary. But Memphis junior DE Martin Ifedi (6-3, 265) will do the same for SMU's offensive line.
2. BYU at Houston, Saturday, 3:30 p.m. ET, ESPN News
The skinny: Houston (5-0) is unbeaten, but BYU will be the best team the Cougars have faced. BYU senior LB Kyle Van Noy (6-3, 245) is a potential first-rounder and will be looking to mess with Houston true freshman QB John O'Korn (6-4, 205). Houston sophomore WR Deontay Greenberry (6-3, 198) is a big-timer who can hurt BYU's secondary. BYU senior WR Cody Hoffman (6-4, 210) can hurt Houston's secondary.
1. UCF at Louisville, Friday, 8 p.m. ET, ESPN
The skinny: This is the toughest remaining game for Louisville, which makes its second consecutive weeknight appearance on ESPN. The Cardinals beat Rutgers last Thursday. UCF won at Penn State and lost narrowly at home to South Carolina, and it definitely has the linemen necessary to beat Louisville. But can UCF's skill-position guys keep up? UCF's corners can be exploited, so Cardinals junior QB Teddy Bridgewater (6-3, 198) should have a big day if he has time to throw. UCF's pass rush hasn't been all that consistent, though the Knights did have five sacks against Memphis in their most recent game. But the Knights suffered a blow Monday, when true freshman DE Blake Keller, who leads the team with three sacks, left the team because he was tired of football. UCF junior QB Blake Bortles (6-4, 230) can hurt foes with his arm and legs, and if he and junior TB Storm Johnson (6-0, 215) can run effectively and make Louisville's stud safety duo of Calvin Pryor (6-2, 208) and Hakeem Smith (6-1, 179) respect the Knights' ground game, this will be mighty interesting. UCF's best offensive lineman is junior LT Torrian Wilson (6-3, 308), who protected Bridgewater's blindside at Miami's Northwestern High.
Mike Huguenin can be reached at mike.huguenin@nfl.com. You also can follow him on Twitter @MikeHuguenin.