In his 35-year college coaching career, Buffalo defensive coordinator Lou Tepper has been around a lot of good linebackers: More than 20 of his former pupils have played in the NFL.
"He not only wrote the book on linebacker play, but he's writing the second edition to it," Buffalo coach Jeff Quinn said of Tepper to the Columbus (Ohio) Dispatch in August.
Tepper, 68, soon will send another linebacker to the NFL, and he says Khalil Mack is among the very best he has coached.
In his midseason update of the top 100 seniors in college football, Gil Brandt has UCLA LB Anthony Barr No. 1 and a previously unranked player in his top 5. **More ...**
The most complete linebackers Tepper has coached, he told the Dispatch in August, were Mike Johnson at Virginia Tech, Kevin Hardy at Illinois and Bradie James at LSU.
"Khalil is in that family," Tepper told the newspaper. "He can play in space, he can play off the ball, he can rush the passer."
Lest you think Tepper is an easy grader, consider that he also coached Simeon Rice, who played linebacker at Illinois before moving to defensive end in the NFL.
"Simeon Rice was an outstanding pass rusher, next to Bruce Smith, probably the best pass rusher I've had," Tepper told the Dispatch. "But Simeon was not a complete linebacker."
Mack (6-foot-3, 248 pounds) gets another chance to show off his talents on national TV on Tuesday night when Buffalo plays at Toledo in a key Mid-American Conference game. Buffalo is the only unbeaten team in league play in the MAC East.
Mack leads the Bulls with 59 tackles; he also has 7.5 sacks, 11.5 tackles for loss, three interceptions, five pass breakups, five quarterback hurries, two fumble recoveries and two forced fumbles.
He has 13 career forced fumbles, one behind the record held by five players: Purdue's Ryan Kerrigan (2007-10), Southern Miss' Cordarro Law (2008-11), Cincinnati's Antwan Peek (2000-02), Arizona State's Terrell Suggs (2000-02) and USC's Kenechi Udeze (2001-03). Kerrigan, Suggs and Udeze were first-round picks.
Week 11: Things we learned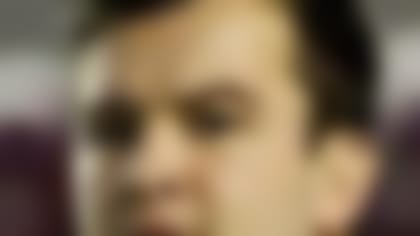 From AJ McCarron being tabbed the nation's most underrated player to Auburn's Nick Marshall outrunning Johnny Manziel, here are the lessons we learned from Week 11. **More ...**
He also has 67.5 career tackles for loss, 7.5 behind the record held by former Western Michigan defensive end Jason Babin (2000-03), a first-round pick by Houston in the 2003 draft who now plays for Jacksonville.
Mack won't be the only potential NFL player on the field; Toledo has two in tailback David Fluellen (6-0, 215) and center Zac Kerin (6-5, 300). Fluellen has rushed for 1,067 yards and 10 TDs, but missed the Rockets' most recent game with a back injury. He is expected to start against Buffalo.
Buffalo-Toledo is one of two important MAC games Tuesday night. In the other, Bowling Green plays host to Ohio. Bowling Green trails Buffalo by a game in the MAC East; those teams meet Nov. 29 in the regular-season finale. A BG win over Ohio means the finale almost certainly would be for the East Division title. Bowling Green senior strong safety Jerry "BooBoo" Gates (5-11, 219) is a potential third-day draft pick.
Mike Huguenin can be reached at mike.huguenin@nfl.com. You also can follow him on Twitter @MikeHuguenin.