There's nothing like watching prospects perform in a big game with significant implications. While it is impossible to simulate NFL conditions, the intensity of championship games closely resembles the intensity and pressure of a pro game. Thus, I had to make a trip to Indianapolis to see a handful of NFL hopefuls battle it out in the Big Ten Championship Game. With 60 minutes to watch standouts from Ohio State and Michigan State show their skills in a fantastic game, here are my observations from the night:
Week 15: Things we learned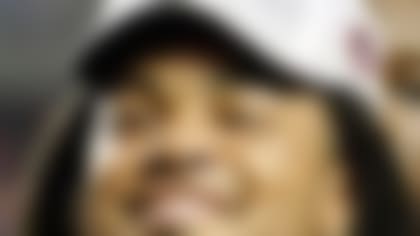 From Auburn RB Tre Mason's record day in the SEC championship game to Blake Bortles' rising draft stock, here are the lessons we learned in Week 15 of college football. **More ...**
Miller a nightmare to stop in college
Against the Spartans, Miller rallied the Buckeyes from a 17-0 deficit by manufacturing a handful of big plays on impromptu scrambles that exploited the aggressiveness of the defense. Miller rushed for 101 yards on 10 carries in the first half, while helping the Buckeyes rediscover an offensive rhythm. He continued to impress with his feet in the third quarter, with a handful of slippery runs that showcased his acceleration and burst on the perimeter. This was especially true when the Buckeyes utilized a series of empty formations that allowed him to attack the middle of the defense on quarterback powers or race around the end on sweeps.
For all of the praise I've lavished on Miller for his rushing exploits, I'm disappointed in his inability to effectively pass from the pocket. He repeatedly missed open receivers, and his failure to string together completions forced the Buckeyes into a one-dimensional attack. In addition, Miller's misfires grounded the Buckeyes' attempt to rally in the fourth quarter when the game was on the line. From a scouting perspective, Miller's shortcomings as a passer in the clutch make it hard to fall in love with his spectacular talent. Sure, he can improve as a passer at the next level, but his skills now are so unpolished that scouts would have a tough time selling Miller to NFL executives.
Shazier will be a force as hybrid LB
Buckeyes standout LB Ryan Shazier is one of the most explosive defenders in college football. Defensive coaches will love to take advantage of his athleticism by deploying him in multiple positions along the defensive front. Watching Shazier play against the Spartans, I was impressed with his speed, quickness and instincts. He flies to the ball with reckless abandon, yet comes to balance to make solid shots on runners in the hole. Those traits helped him enter the Big Ten championship game as the league leader in tackles (122) and tackles for loss (21.5). He continued to dazzle with 12 tackles and 1.5 tackles for loss Saturday.
Against the run, Shazier was like a bull in a china shop for most of the night. He attacked the line of scrimmage on inside plays, showing a knack for eluding blockers with agility and quickness. He also flashed exceptional pursuit and quickness chasing runners down from the backside. Shazier exhibits the cat-like quickness defensive coaches covet in weak-side linebackers.
As a rusher, Shazier's athleticism and burst make him nearly impossible to keep out of the backfield on blitzes. He blows past plodding offensive linemen and is too aggressive for running backs. Shazier repeatedly ran over and around the Spartans' blockers on his way to harassing Connor Cook and Jeremy Langford in the backfield.
Looking ahead to Shazier's pro potential, I believe he could be an immediate difference maker as a WILL linebacker in a 4-3, while also playing as the nickel backer in sub-packages. This would allow him to stay on the field in every situation, a luxury in the pro game. Most important, it would enable him to be a factor in a league that is trending heavily toward the past. Of course, some scouts and coaches will worry about Shazier's slender frame and his struggles against take-on blocks, the speed and athleticism that he brings to the field as a playmaking linebacker will make him a hot commodity on draft day.
Roby vs. Dennard tough to grade
Bradley Roby and Darqueze Dennard are two of the top cornerbacks in the 2014 draft, but NFL coaches and scouts will be at odds over their long-term potential.
While I believe both guys are terrific prospects with unbelievable skills, the fact that one is an explosive athlete (Roby) and the other is a technical marvel (Dennard) will force some evaluators to weigh short-term production against long-term potential. In general, scouts prefer dynamic athletes because of the belief that skills can be developed and harnessed on the practice field under the supervision of quality teachers. Scouts have a tendency to look two or three years ahead, whereas coaches are more apt to look at immediate performance. Thus, they have a tendency to fall in love with guys who exhibit sound technical skills on the field.
Looking at both guys closely Saturday, I believe Dennard is a more complete player right now. He displays sound footwork and fundamentals in press coverage. What's more impressive, he dominates receivers on the perimeter with strong jams and perfect positioning. Dennard also exhibited terrific poise and ball skills by perfectly "playing the pocket" -- when a defensive back knocks the ball out of the receiver's hands during a catch attempt -- on a handful of vertical throws. In run support, I appreciate Dennard's toughness and tackling skills. He thumps runners on the edge but also shows the body control and balance to make solid tackles in space. Given the importance of cover skills and tackling at the next level, Dennard will rank high on most coaches' list when they study his play on tape.
Roby, on the other hand, will certainly be a favorite of scouts when he performs in workouts. He shows smooth and fluid movement skills, yet is explosive getting in and out of breaks. In coverage, Roby has the ability to snuff out receivers in press coverage. He is fast enough to run with speedsters on the outside but is also strong enough to challenge big-bodied receivers in isolated matchups. Although he occasionally loses focus and allows an inferior opponent to make a play, Roby has the ability to raise his game to the level of competition.
In run support, Roby is a willing tackler on the perimeter. He will mix it up with running backs and punish receivers on the outside. Although he appears to cut down most ball carriers at the knees, he makes enough wrap-up stops to convince evaluators that he could be a dependable tackler at the next level.
With NFL scouts and coaches under pressure to win games in the short-term and down the road, it will be interesting to see how Roby and Dennard stack up on boards across the league.