Boston College tailback Andre Williams' dream season continued Saturday when he rumbled for 263 yards and two touchdowns on 32 carries as the Eagles beat Maryland, 29-26.
It was Williams' fifth 200-yard game of the season and his third in a row; he has rushed for 897 yards and six touchdowns on 104 carries in the past three games. That yardage total is more than six teams had for the season heading into the weekend's games.
Week 13: Top RB performances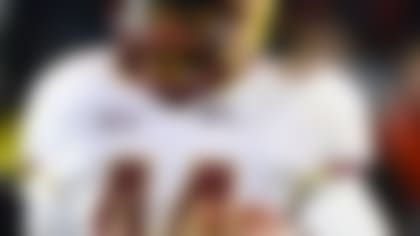 Boston College's Andre Williams had his lowest rushing output in three games, but he still led the way on our list of the top 10 RB performances of Week 13. **More ...**
Williams has 2,073 rushing yards this season, and is the 16th player in FBS history to reach the 2,000-yard plateau. The single-season record is 2,628 yards by Oklahoma State's Barry Sanders in 1988. At first glance, that seems unattainable. But Williams has averaged 299 yards per game over the past three games, and has two games remaining -- the regular-season finale next week against Syracuse and a bowl game. If he hits his average in those two games, he will finish with 2,671 yards.
The most recent 2,000-yard rusher was Connecticut's Donald Brown (2,083) in 2008. Williams' yardage total already ranks 12th in single-season history; he is 113 yards from fourth place. The top three: Sanders, UCF's Kevin Smith (2,567 in 2004) and USC's Marcus Allen (2,342 in 1981).
Williams' last carry of the day came with 44 seconds left and was a 36-yard run from BC's 27-yard line. Three plays later, BC's Nate Freese booted a 52-yard field goal on the final play for a 29-26 victory.
Williams scored on a 6-yard run in the second quarter and a 72-yarder in the third quarter. It was his fourth consecutive game with two rushing TDs, and he has 16 TDs this season.
Mike Huguenin can be reached at mike.huguenin@nfl.com. You also can follow him on Twitter @MikeHuguenin.