UCF junior quarterback Blake Bortles had his fourth 300-yard game of the season Thursday night in leading the Knights to an easy 41-17 rout of Rutgers. The victory keeps UCF on track for the AAC's automatic BCS berth.
Bortles was 21-of-30 passing for 335 yards and a TD, and he also rushed for a score. The yardage total was his third-highest of the season, and he now has nine TD passes and one interception in the past four games.
Bortles (6 feet 4, 230 pounds) has climbed NFL draft boards with his steady play this season, and he was especially sharp in the first half against Rutgers. He led the Knights to TDs on each of their first four drives, going 13-of-18 for 198 yards and a TD in the process. He also ran for 39 yards and a score on those drives.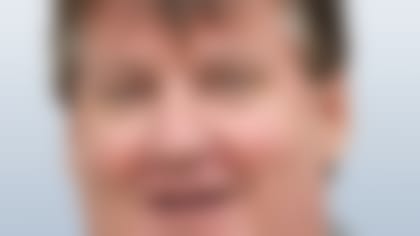 Johnny Manziel's Texas A&M Aggies are still lingering on the fringe of the BCS picture in our latest bowl projections. See which teams Mike Huguenin projects to go to bowl games. More ...
He was at his best on the fourth drive, showing off his touch, strength and running ability. The best example of his skill set came on a second-and-9 from UCF's 33. Rutgers blitzed, but Bortles was able to shrug off the blitzer, use his mobility to escape two other would-be tacklers and find wide receiver J.J. Worton all alone down the sideline. Bortles floated in a perfect pass, which Worton turned into a 31-yard gain. Bortles capped off that drive with a 7-yard scoring run.
UCF got a bit sloppy after that. Bortles was sacked twice on UCF's final drive of the first half, then dropped three times in the second half. When the 29 yards lost on the sacks is added in, Bortles finished with just 32 rushing yards.
Bortles did a nice job spreading the ball around, with three wide receivers finishing with five catches apiece. Contrast that with Rutgers star wide receiver Brandon Coleman, a big-time talent who is wasted in the Scarlet Knights' passing attack. Coleman (6-6, 220), a big guy with good speed, had just one reception Thursday and has only 29 on the season. UCF's secondary has struggled this season, but Rutgers managed to throw for just 152 yards, and its quarterbacks were a combined 15 of 43.
UCF (9-1 overall, 6-0 in the AAC) has regular-season games remaining against USF and SMU. One more win and the Knights are guaranteed at least a share of the league title; depending on how Cincinnati and Louisville finish, UCF could earn the league's BCS berth even if they lose a conference game. But if they win both, the Knights -- the only unbeaten team in league play -- undoubtedly will be in a BCS game.
Mike Huguenin can be reached at mike.huguenin@nfl.com. You also can follow him on Twitter @MikeHuguenin.