Where the wide receiver position is concerned, bigger most definitely has been better in the Southeastern Conference this season.
Texas A&M's Mike Evans, Vanderbilt's Jordan Matthews and the Missouri tandem of Dorial Green-Beckham and Marcus Lucas have made a major impact this season, and each has a size advantage over any SEC cornerback they encounter. The entire foursome ranks among the top five in the SEC in catches per game, with Matthews leading the field at 8.0. Evans and Matthews lead the league in receiving yards, with 691 and 586, respectively, and both rank among the top four in the entire NCAA in that category.
Things we learned in Week 5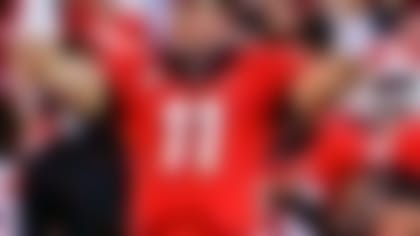 From Georgia's thrilling victory over LSU to USC's loss that got Lane Kiffin fired, here are 43 things we learned about Week 5 in college football. **More ...**
Green-Beckham (6-foot-6, 225 pounds), the top receiver recruit in the nation two years ago, is enjoying a breakout sophomore season with 21 catches for 334 yards in just a month. Lucas (6-5, 220) is only averaging 9.6 yards per catch, low for a receiver, but also has 21 grabs. Missouri offensive coordinator Josh Henson told kansascity.com about the difference the two have made for quarterback James Franklin.
"It's an advantage," Henson said. "Size is an advantage. You just get the ball up in the air down the field and James is doing a nice job of putting it in the right place. They've made plays when we've thrown it to them."
Evans (6-5, 225) has been virtually unstoppable this season, particularly with A&M quarterback Johnny Manziel buying all sorts of time for Evans to get open with his elite scrambling skills. Matthews (6-3, 205) has at least 100 yards receiving in four of his five games this year.
"Most definitely, I'm glad I don't have to go up against them in games," Missouri cornerback Randy Ponder, who is 5-foot-10, said of Green-Beckham and Lucas. "You see what happens at game time, it's fade city. You throw a jump ball up, and they're going to go get it, like a rebound."
He will, however, get a chance to face Matthews this weekend.