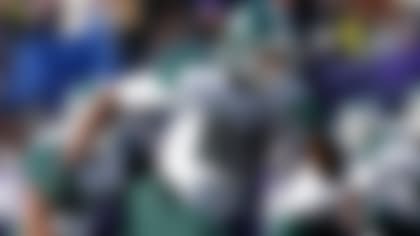 The 16-season BCS era wasn't all that kind to the Big Ten.
The league had just one national championship during that span, with Ohio State winning it all after the 2002 season. And the Buckeyes also were the only league team to make it to the title game (they also lost in 2006 and '07).
In addition, the Big Ten was 13-15 in BCS bowls overall -- far behind the SEC and Pac-12 and also worse than the Big East/AAC among the "power" conferences. It was a few percentage points better than the Big 12 (.464 winning percentage to .454 for the Big 12), and a lot better than the ACC (.277).
The dawn of the playoff era lends hope that the Big Ten can improve its reputation, and league commissioner Jim Delany said late last month that it was important for the conference to win a national title. Michigan State and Ohio State made it into the BCS last season, and those appear to be the two strongest league teams this season. But Braxton Miller's injury removes the Buckeyes as a viable playoff contender. Can Michigan State do enough to get into the four-team playoff field? It likely would mean running the table.
The conference definitely has been re-energized of late by some of the coaching hires, with Urban Meyer at Ohio State and James Franklin at Penn State, in particular, shaking things up on the recruiting trail.
Now it's time for the conference to win some important games in January.
Offensive Player of the Year
Defensive Player of the Year
Three best non-conference games
Three biggest conference games
Preseason All-Conference Team
Mike Huguenin can be reached at mike.huguenin@nfl.com. You also can follow him on Twitter @MikeHuguenin.