Arizona State safety Alden Darby's 46-yard interception return for a touchdown against USC may end up as the turning point of the Pac-12 season.
Not 48 seconds earlier the Trojans held the lead at Sun Devil Stadium, but a 74-yard touchdown pass and Darby's pick six turned a one-point advantage into a 13-point deficit that essentially ended Lane Kiffin's tenure as USC head coach. Kiffin was fired hours later in Los Angeles after the 62-41 defeat. USC has rebounded under interim head coach Ed Orgeron, but the win has ASU on top of the Pac-12 South.
Week 11: Top WR performances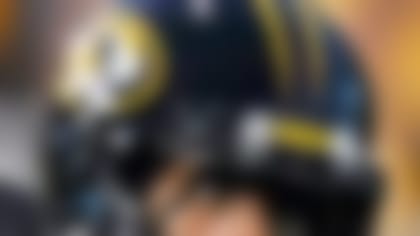 Missouri's Dorial Green-Beckham had a Calvin Johnson-like impact at the goal line Saturday in Week 11's best performance by a wide receiver.. More ...
But that only matters for ASU if it keeps winning, and that means Darby and corner Osahon Irabor will have to keep Oregon State wide receiver Brandin Cooks under wraps this Saturday. That, as ASU head coach Todd Graham knows, is no small feat.
"Statistically, he (Cooks) is leading in all-purpose yards, receptions and receiving yards," Graham said Tuesday on the Pac-12 teleconference. "He is the most explosive player in our conference because he can do so much. He runs the ball on the speed sweep, he is lethal on wide receiver screens and reverses, and he also has been very effective in the intermediate passing game, and then he will burn you deep.
"This year, as far as dynamic and versatile, he's the best that we have played against."
Cooks has been held in check in his last two games, both Beaver losses, catching nine balls for 80 yards and one touchdown against Stanford and six for 88 yards and one touchdown against USC. But Cooks, a 5-foot-10, 186-pound junior, still leads the FBS in receiving yards per game (149.3) and is tied for the lead in receptions for game (10.1).
The challenge on limiting Cooks will fall on Irabor and Darby, who line up together on the short side of the field. Irabor has 36 tackles with 4.5 tackles for loss (one sack), three pass breakups and two interceptions this season; Darby has 43 tackles with one tackle for loss, eight pass breakups, two forced fumbles, two interceptions and one fumble recovery.
The main challenge for Darby (5-11, 195) will be to keep Cooks from piling up yards after the catch. For Irabor (5-11, 186), it will be to jam Cooks at the line and keep him from building up speed. Together, Irabor and Darby will have to keep Cooks from striking down the field, and Graham thinks they are ready for those tasks.
"We play a lot of bump cover with our corners, and Irabor is as good as I have coached there," Graham said. "Really technically sound. Him and Darby playing both into that boundary, they almost operate as one. The difference with those guys ... last year, we were pretty good with them, but we're a lot better this year. It has to do with their technique, their stance, their fundamental progression at boundary corner and boundary safety."
The ASU secondary delivered one defining moment earlier this season. The challenge is to do it again Saturday.