Virginia Tech's stingy defense likely will become even stingier with the news that senior cornerback Antone Exum -- who hasn't played this season -- has been cleared for action Saturday against North Carolina.
Exum suffered a torn ACL and a bone fracture in his right knee playing pickup basketball in January, and has been rehabbing since he had surgery in early February. Hokies secondary coach Torrian Gray said on the "Tech Talk Live" radio show Monday night that Exum had been cleared by Dr. James Andrews to play. Before his injury, Exum was expected to be one of the top five senior corners in the nation this fall.
Things we learned in Week 5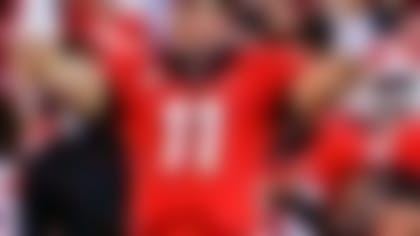 From Georgia's thrilling victory over LSU to USC's loss that got Lane Kiffin fired, here are 43 things we learned about Week 5 in college football. **More ...**
Exum (6-feet-1, 220 pounds) played safety in his first two seasons, then moved to corner last fall and had a tremendous season, finishing with 48 tackles, five interceptions, 16 pass breakups and two forced fumbles. When healthy, he is one of the most physical corners in the nation. Exum doesn't have elite speed, but he is effective in press coverage because of his physicality and quickness. His recovery from the knee injury obviously will determine his draft stock.
He joins a loaded secondary that is playing at a high level. The Hokies are tied for the national lead with 11 interceptions and are allowing foes to complete just 44.0 percent of their passes. Among their opponents have been Alabama and pass-happy teams East Carolina and Marshall. The Hokies are surrendering just 138.2 passing yards per game.
Expect Exum to be eased back into the lineup, both because of the injury and because the corners are playing so well. Senior corner Kyle Fuller (6-0, 194) is playing the best ball of his career, and true freshmen corners Kendall Fuller (5-11, 193), Kyle's brother, and Brandon Facyson (6-2, 188) have been effective, as well. Facyson, a reserve, is tied for the national lead with four interceptions. Kyle Fuller generally is considered one of the top 10 senior corners in the nation; he always has been good in run support, but his coverage skills have improved this fall.
Free safety Detrick Bonner (6-0, 194) and strong safety Kyshoen Jarrett (5-11, 198), both juniors, have combined for 42 tackles, three interceptions and three pass breakups. Both have the skill set to eventually be drafted.
In a decision announced Tuesday on beamerball.com, coach Frank Beamer's website, Facyson could play some at wide receiver Saturday if Exum has no issues with his knee at practice this week. Facyson played wide receiver and corner in high school in the Atlanta area.
Mike Huguenin can be reached at mike.huguenin@nfl.com. You also can follow him on Twitter @MikeHuguenin.