A look at the 10 of the top rushing performances in college football Saturday.
10. Dri Archer, Kent State
Key stats: Archer ran 15 times for 138 yards and three touchdowns in a surprising 44-13 conference upset of Ohio.
The buzz: Archer, an NFL prospect despite his size (5-8, 175 pounds), came up with his best performance of the season in every respect.
Week 13: Things we learned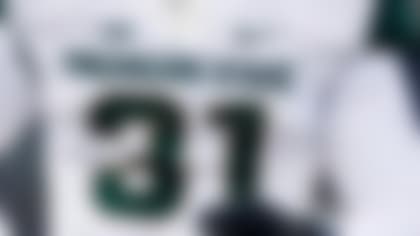 From Darqueze Dennard proving his status as a shutdown corner to an ailing Jadeveon Clowney sitting out, here are the lessons we learned in Week 13 of college football. More ...
9. James White, Wisconsin
Key stats: White ran 26 times for 125 yards and a touchdown against a solid Minnesota team.
The buzz: Give White his fourth straight 100-yard game and fifth in his last six games against conference competition.
Key stats: Magee ran 13 times for 149 yards and a touchdown in a big home win over Texas A&M.
The buzz: It was the third game this season in which Magee has averaged better than 10 yards per carry with at least seven carries in each.
7. Jeremy Langford, Michigan State
Key stats: Langford picked up 150 yards on 25 carries and two touchdowns in a 30-6 win over Northwestern.
The buzz: Langford continued to reward Michigan State's midseason decision to give him more carries, with his sixth consecutive game over 100 yards. His 150 yards and 6.0 yards-per-carry average were season-bests for Langford.
Key stats: Cornett rushed 36 times for 220 yards and four touchdowns in a 41-21 win at Air Force.
The buzz: Cornett delivered season highs in every category for his fifth 100-yard game of the year. His scoring runs went for 22, 7, 3 and 46 yards.
Daniel Jeremiah says Boston College's Andre Williams is trending upward while Johnny Manziel is taking a step back in his weekly stock report. More ...
5. Antonio Andrews, Western Kentucky
Key stats: Andrews rumbled for 204 yards on 21 carries and three scores in a win over Texas State.
The buzz: One of the nation's leading rushers finished his regular season career with a huge night, posting his second-highest yardage total of the season. It was Andrews' 10th straight game over 100 yards.
4. Brennan Clay, Oklahoma
Key stats: Clay picked up an even 200 yards on 31 carries with two touchdowns in a 41-31 win over Kansas State.
The buzz: Like Cornett, it marked a season high for carries, yardage and touchdowns for the senior in his final regular-season appearance as a Sooner.
3. Ka'Deem Carey, Arizona
Key stats: Carey did just that, rushing 48 for 206 with four touchdowns in a 42-16 upset of Oregon.
The buzz: The magnitude of the upset helps Carey rank especially high. He's also maintaining a season-long streak of 100-yard games and ripped the Ducks for his second 200-yard game of the year.
Key stats: Reynolds ran 36 times for 240 yards with seven touchdowns in a 58-52 win over San Jose State.
The buzz: The performance broke an NCAA single-game scoring record, and his 26 rushing touchdowns for the year is one short of the NCAA single-season record. Surprisingly, the longest of his seven scores was just 38 yards.
1. Andre Williams, Boston College
Key stats: Williams carried 32 times for 263 yards and two touchdowns in a 29-26 win over Maryland.
The buzz: The hottest running back in the country stayed ablaze Saturday with his fifth-straight game of 100 yards. The 263 yards was his lowest output in three games. Williams has 897 yards in his last three games, with six touchdowns. Williams leads the nation in rushing and went over the 2,000-yard mark for the season Saturday.