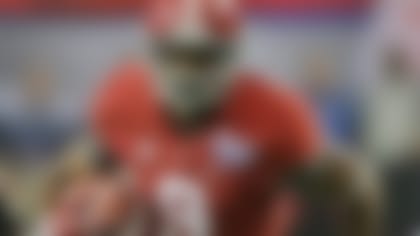 The wide-open nature of the college game has helped wide receivers become the marquee playmakers on offense. Innovative coaches are using more spread formations to turn football into basketball on grass, which allows explosive receivers to take advantage of one-on-one matchups in space.
With NFL play callers prone to stealing ideas from the collegiate ranks, more teams are placing a greater emphasis on adding receivers with the speed, quickness and explosiveness to turn short passes into big gains. As a result, we are seeing more pass-catchers come off the board in the early rounds, including five receivers selected on Day 1 of the 2014 NFL Draft.
After surveying the collegiate landscape for the top players at the position, here's the group of wide receivers to watch in the fall:
The junior standout is the prototypical No. 1 receiver that NFL coaches and scouts covet as the anchor of a passing game. Cooper is a big, athletic playmaker with exceptional ball skills and hands. Most important, he is a smooth, fluid route runner capable of running every route in the book, which makes him the ideal receiver to feature in a game plan. With a resume of standout production (16.8 yards per catch; seven receptions of 50-plus yards and 15 total touchdowns in two seasons), Cooper is squarely in the crosshairs of NFL scouts looking for a potential playmaker to build around in a few years.
The Trojans have churned out a number of NFL receivers over the past decade, but Agholor has a chance to be one of the best to come out of USC since Keyshawn Johnson. He is a natural route runner with outstanding ball skills and hands. Additionally, Agholor is a sneaky runner with a knack for turning short passes into big gains due to his underrated kick-return skills (19.1 average with 2 TDs). Given the importance NFL coaches place on RAC (run after catch) yards, Agholor's spectacular game is perfectly suited for a West Coast offense at the next level.
3. Antwan Goodley, Baylor
Whoa! That's the only word to accurately describe the reaction of NFL scouts when they take a long, hard look at Goodley's "touch" tape from the 2013 season. The 5-foot-11, 225-pound junior totaled 71 receptions for 1,339 yards (18.9 avg.) and 13 touchdowns, while displaying a rare combination of speed, strength and power on the perimeter. Although Goodley is raw and unrefined as a route runner, his explosiveness and playmaking ability vault him to the top of the list in the minds of NFL evaluators. If he continues to progress at a rapid rate, he will be the next Baylor pass-catcher (Josh Gordon, Kendall Wright and Terrance Williams) to make an impact at the next level.
4. Ty Montgomery, Stanford
Dual-threat playmakers are always valued at a premium in pre-draft meetings, which is why scouts are salivating over Montgomery's pro potential. The senior standout is arguably the most explosive returner in college football, but is equally impressive as a pass-catcher. Montgomery averaged 15.7 yards per catch in 2013 with 10 touchdown catches, while also ranking second in kickoff returns with a 30.3-yard average and two return scores. Those numbers are not only indicative of his overall explosiveness, but it speaks volumes about his playmaking ability in the open field. Thus, it is not surprising to hear scouts rave about his upside and potential as a future pro.
5. Rashad Greene, Florida State
For all of the praise heaped in Kelvin Benjamin's direction for enhancing Jameis Winston's playmaking ability, it was the steady production from Greene that steadied the Seminoles' passing game. The 6-0, 178-pound senior finished last season with 76 receptions for 1,128 yards and nine touchdowns, while exhibiting precise route-running skills as a versatile playmaker in the passing game. Greene is a rare receiver capable of stretching the field on vertical routes, while also doing the dirty work inside the numbers. With Winston expected to make a significant jump in his development as a second-year starter, Greene could put up ridiculous numbers as the Seminoles' No. 1 receiver.
6. Tyler Lockett, Kansas State
Scouts love prospects with close ties to the NFL because they are familiar with the bright lights and big stage of the pro game. Lockett is well prepared to play at the next level after watching his dad, Kevin, and uncle, Aaron, have success at K-State and then move on to the professional ranks. The experience has helped Lockett develop a refined game that overwhelms defenders on the perimeter. He is the most polished route runner in college football, with a bag of tricks that is comparable to a long-time NFL veteran. In addition, Lockett is a dynamic returner with a knack for putting the ball in the paint on kick returns (four career TD returns). With playmakers coveted at a premium, scouts are paying close attention to Lockett's continued development as a receiver/returner this fall.
7. DeVante Parker, Louisville
Parker surprised some experts by passing up an opportunity to jump to the pros following a solid junior campaign (55 receptions for 885 yards and 12 touchdowns). But the 6-3, 209-pound standout elected to spend another season at Louisville and will be refining his game in Bobby Petrino's pro-style system. With a breakout performance in the Russell Athletic Bowl (nine receptions for 142 yards and a TD) setting the stage for a monster senior season, Parker must continue to show scouts that he has the skills to develop into a No. 1 receiver as a pro.
Like father, like son? That's the question NFL scouts are pondering after watching Anderson put up spectacular numbers at Utah in 2013. He tied for the national lead in receptions of 50-plus yards (seven), while posting an astonishing 18.9-yards-per-catch average -- third-best among receivers with at least 50 catches (he trailed Mike Evans and Odell Beckham). As a vertical playmaker with speed, quickness and burst, Anderson is not only a remake of his dad (Willie "Flipper" Anderson), but also the home-run hitter every offensive coordinator covets on the perimeter.
The NFL has become a big man's game, but that won't stop scouts from falling in love with Crowder's skill this fall. The 5-9, 175-pound senior is one of the most explosive pass-catchers in college football. He has amassed 13 receptions of 40-plus yards over the past two seasons, with four of his eight touchdowns in 2013 covering at least 58 yards. Although his big-play ability is impressive, it is Crowder's steady production as an intermediate route runner that has scouts envisioning the Blue Devils' standout blossoming into a dynamic slot receiver at the next level. With his superb return skills bolstering his case as a "catch-and-run" specialist, Crowder is an intriguing prospect to keep an eye on this fall.
Take a look at the cheerleaders of college football in action during the 2013 season.
10. Justin Hardy, East Carolina
The numbers never lie. That's what NFL scouts are saying after taking a long, hard look at Hardy's tape from the 2013 season. The silky-smooth pass-catcher surpassed the 1,000-yard mark for the second consecutive season, with a 111-catch, 1,284-yard effort as a junior. He ranks second on ECU's all-time list in receptions and receiving yards, but already owns the school record for career touchdown receptions (25) as a rare three-year starter. Hardy is a dynamic playmaker with excellent stop-start quickness and route-running ability. He complements those traits with outstanding ball skills and hands. Factor in his wiggle and elusiveness in the open field, and Hardy could develop into a standout slot receiver at the next level.
Wild card: Dorial Green-Beckham
The former Missouri standout was expected to be one of the top receivers in college football this season until a series of off-field incidents led to his dismissal from the Tigers' football team. Green-Beckham has appealed to the NCAA to be allowed to play for Oklahoma this fall. Although the former No. 1-ranked recruit has shown impressive flashes as a 6-6, 225-pound playmaker, the tape reveals a raw, unpolished talent with unrealized potential. Sure, Green-Beckham is coming off a season where he snagged 59 balls for 883 yards and 12 touchdowns, but his litany of off-field woes will prompt evaluators to post red flags beside his name on draft boards across the league. Thus, DGB would be wise to make his way to a school where he can continue to develop his game, while repairing his reputation as a talented, but troubled, playmaker.