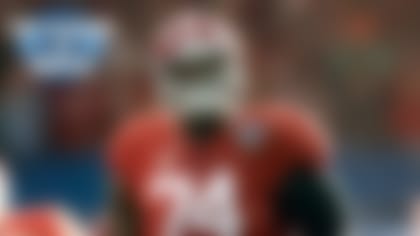 Based on my initial viewing of the game tape for each of these prospects, it doesn't appear as though there will be a trio of draft-eligible tackles to match the combined talent of the first three OTs off the board this year (Laremy Tunsil, Ronnie Stanley and Jack Conklin). Alabama's Cam Robinson leads the list, but he has some strong competition for the top spot.
This is not a list previewing the 2017 NFL Draft. It's a look at tackles that are generating interest from NFL scouts and/or are expected to post big seasons for their teams. Here are 10 to watch in 2016.
Robinson has outstanding proportional build for the position and carries his weight well. I thought Robinson took a noticeable step forward as a run blocker last season, using better footwork and showing an effortless ability to make combination blocks. After two years as a full-time starter in the SEC, Robinson should begin to polish his game and work on some of the problem areas. He's good at firing out on top of defenders, but has to improve when it comes to sustaining blocks. He also needs to keep from ducking his head. His hands can still get a little wide in pass protection, but his feet in pass pro are right where they need to be. A district attorney decided not to prosecute Robinson on charges stemming from his May arrest. NFL teams will do their own research into the incident whenever Robinson enters the league.
2. Mike McGlinchey, Notre Dame
McGlinchey is extremely fluid in his movement and has the type of athleticism that scouts love when looking for left tackles. McGlinchey is moving from the right side to the left with Ronnie Stanley gone, so he has an opportunity to prove himself at the more highly valued of the two positions. He can get to every run-blocking angle. He plays with excellent posture and hand placement in pass protection. McGlinchey's core strength is just OK right now and he needs to add more muscle to his frame, but he has the tools and traits NFL teams want to see.
Banner is an absolute mountain of a man (6-foot-9, 360 pounds, according to school measurements). There is no denying his pure power and relative athleticism for his size. He has the talent to stick at right tackle, and when he gets his hands on defenders, they are finished. Banner needs to play with more consistency than he showed in 2015.
A towering left tackle (6-foot-9, 310 pounds, per school measurements) for the Bruins who enters his senior season with 19 career starts, McDermott has an intriguing blend of size, length and athleticism. McDermott was a quality high school basketball player, and it's no surprise given his movement skills and footwork when mirroring pass rushers. He's able to redirect back inside against stunts and he has the slide quickness to handle edge speed. McDermott's punch generally lands first and he has the hand strength to latch onto defenders and neutralize them at the point of attack. He's one of the few returning starters along the offensive line for UCLA, and protecting quarterback Josh Rosen ensures that he'll have plenty of eyes on him.
5. Roderick Johnson, Florida State
Johnson took a step forward last season. He has the frame and length that teams are looking for from a left tackle. My biggest concern with Johnson revolves around his lack of body control and balance. He has to play with a stronger, more controlled base as he moves forward. Johnson is very flexible for his size and plays with a good, quick slide in pass protection that helps him out-race edge rushers to the corner. Effort is never a concern.
6. Connor Williams, Texas
Williams will be a sophomore this season, so he won't be draft-eligible until 2018, at the earliest. Texas has been abysmal at producing NFL offensive linemen over the last 15 years and Williams didn't come to Texas as a highly touted prospect. However, he plays with outstanding fluidity and body control. He has a well-proportioned frame and should continue to add weight. He has a technique that is somewhat rare for such a young player. It will be interesting to see if he stays outside at tackle or bumps inside to guard or center, but you will be hearing his name over the next few years.
7. Adam Bisnowaty, Pittsburgh
Bisnowaty is very well-built with a proportional frame. He has an athletic lower body that allows him to roll his hips under him to gain leverage as a run blocker. I like his combination of experience and toughness. He's a three-year starter with a mean streak, but that mean streak isn't there to mask a lack of traits like length or foot quickness because he possesses those traits, too. He doesn't gain enough ground with his kick slides, which will warrant keeping an eye on, and injuries have hounded him for three straight years.
Wheeler is an experienced left tackle who has very good feet and plays with a technical savvy. Wheeler generally plays with good posture, hand usage and footwork and he has the foot quickness to make tough angle blocks on the move. With an ability to cross-face defenders, zone teams will definitely be interested in him. While there is much to like, one area that really shows up on tape is a lack of consistent anchor strength. Wheeler needs to continue to add muscle and core strength to battle against bull-rushers.
9. Orlando Brown, Oklahoma
Brown is the son of the late Orlando "Zeus" Brown and finished his freshman campaign as a second-team All-Big 12 selection. Brown has a mammoth frame (6-8, 357, according to school measurements) and gets the most out of it. While he's a little limited athletically and doesn't bend as well as you might like a tackle to, he possesses a tremendous amount of natural power and is able to end plays once he gets his hands squarely on the defender. His pass protection needs some work and he must cut down on penalties -- he was flagged 12 times for 94 yards last year. He's already a very capable run blocker and as his athleticism catches up with his frame, he should become dominant in that area.
Hyatt is another youngster on this list who won't be draft eligible until 2018 at the earliest. As a five-star recruit, much was expected of Hyatt despite playing the toughest position on the offensive line (left tackle) as a freshman, but overall, he held up. At this point, Hyatt's lack of functional strength and subsequent body control issues are areas in which he'll need to improve with work in the weight room, but he has the size (6-5, 295, per the school) and athletic ability to move up on this list.