Alabama quarterback AJ McCarron fired three touchdown passes and became the Crimson Tide's all-time leading passer Saturday night in a 38-17 win over LSU that kept the fifth-year senior within striking distance of the Heisman Trophy.
Week 11: Top QB performances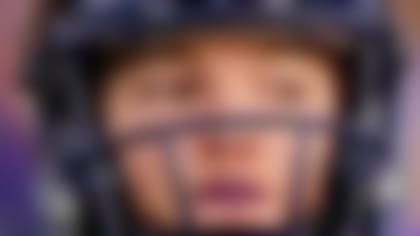 Johnny Manziel and Maty Mauk each tossed 5 TD passes Saturday -- good but not quite good enough to be No. 1 in our top 10 quarterback performances of Week 11. **More ...**
McCarron completed 14 of 20 passes for 179 yards and three scores -- pedestrian numbers by the standards of more prolific Heisman candidates such as Johnny Manziel or Jameis Winston -- yet more than enough for another crucial win. But with another turnover-free performance against a ranked opponent to keep the No. 1-ranked Crimson Tide unbeaten, McCarron said the Heisman was the last thing on his mind.
"I've won two national championships in a row," he said. "If that wasn't a distraction, I don't think an individual award would be a distraction."
McCarron also broke John Parker Wilson's school record for career passing yards. McCarron has 7,997 yards with three games to play in the regular season, and potentially two more if Alabama qualifies for the SEC title game. But after stiff-arming the Heisman question, McCarron deferred credit for the record to teammates.
Alabama coach Nick Saban, who called McCarron college football's most underrated player Saturday, commented on McCarron's pre-snap impact in recognizing defenses.
"Yelling at the sidelines, saying, 'We don't have enough to block that play over there, you need to call this.' Or, 'We can check to that against this look they're running.' He's a great competitor," Saban said. "He's into it. I thought he did a great job of showing a lot of leadership out there, especially in the second half to get our offense going."
McCarron completed a 52-yard touchdown pass to freshman tight end O.J. Howard and found Kevin Norwood and Jalston Fowler for short touchdown throws. After the game, Saban jumped into McCarron's arms in exuberance (see video image here).
"It was just excitement that we won," McCarron said. "We've got a great relationship. We've always been close."
Added Saban: "Look, AJ and I have been through a lot," he said. "Some of that you've seen on TV, and some of it you haven't. He's done a great job for us, and there's nobody I've ever had the opportunity to coach that's more into the game or more of a competitor."
Suffice it to say, there isn't a quarterback in the nation with more proven intangible qualities than McCarron. That's not anything that will garner Heisman Trophy votes, unless it comes in the form of respect for an undefeated season. But believe this: When NFL clubs evaluate the nation's top quarterback prospects for the 2014 NFL Draft, McCarron's high marks in the areas of preparation, leadership and understanding of the game will put him at the head of his class in those areas.