Alabama sophomore running back T.J. Yeldon rushed for a season-high 160 yards on 24 carries in the Crimson Tide's sloppy 20-7 win over Mississippi State.
Week 12: Top RB performances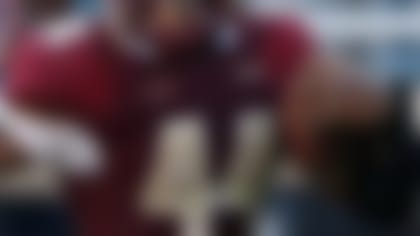 Boston College's Andre Williams racked up 339 yards Saturday, but it wasn't enough to earn the top spot on our list of the top 10 RB performances of the weekend. **More ...**
And with a lost fumble, his fourth fumble of the season, Yeldon contributed something to the sloppiness as well.
Still, it was Yeldon who broke a 50-yard run to help spark a struggling Crimson Tide offense, and Yeldon who ultimately helped the Crimson Tide salt away the clock while sitting on a second-half lead. The performance put Yeldon over the 1,000-yard mark for the season, now at 1,022. Yeldon has now posted back-to-back 1,000-yard seasons in the first two years of his college career.
Coming off a 133-yard, two-touchdown effort against rival LSU, Yeldon is playing some of his best football of the season in a late-season stretch that will include a trip to Auburn in two weeks.