Landry wasted no time taking the top off the Alabama defense with a go route, reeling in a 45-yard completion from Zach Mettenberger off a play-action fake. Landry beat Belue by only a step on the play, but with Mettenberger's pass thrown perfectly, one step was all Landry needed. Belue made the tackle immediately. ... Once Landry loosened Alabama deep however, LSU was content to establish its rushing attack for most of the remainder of the quarter. Landry's only other reception, a gain of 14, came against zone coverage across the middle against Alabama safety Jarrick Williams. ... Pre-snap motion took Landry away from Belue on several plays, with Landry delivering a crackback block on a linebacker on one of them. Belue, meanwhile, was largely uninvolved in run support.
Week 11: Things we learned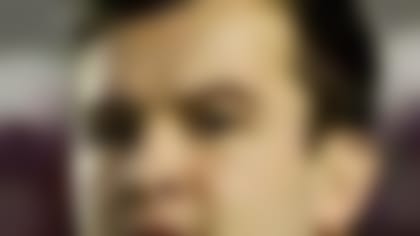 From AJ McCarron being tabbed the nation's most underrated player to Auburn's Nick Marshall outrunning Johnny Manziel, here are the lessons we learned from Week 11. **More ...**
Landry threw a fabulous block on Belue to help spring a 23-yard completion to Jeremy Hill on LSU's first possession of the second quarter. ... After that, the Tigers mixed up the matchups more, with Belue seeing action on LSU's other star receiver Odell Beckham, Jr., among others, and Mettenberger found some success with it. LSU's Kadron Boone caught a deep pass on Belue for a gain of 29 along the left sideline. Belue stayed with Boone nicely on the route, but turned too late to find the ball as Mettenberger delivered a strike to Boone's back shoulder. On the next play, Beckham, Jr. beat Belue on a deep out for a gain of 16. Belue even found himself locked up with running back Jeremy Hill split out wide on one play as Landry found success elsewhere, including a 15-yard catch in front of safety Landon Collins.
Belue came up with his first big play of the night in the third quarter as Mettenberger looked to Landry on a skinny post route on a 3rd-and-7 play in Alabama territory. Belue was a step behind the junior, but recognized the route and cut underneath the route as Mettenberger delivered the pass. Belue dropped a would-be interception on the play, but the breakup nevertheless thwarted a key LSU drive and forced a punt.
LSU continued to send different matchups to Belue's left corner spot late in the game, with Boone and Beckham combining for as much action as Landry against the Crimson Tide senior. It was a quiet quarter for Belue, as Mettenberger looked elsewhere in the passing game. Meanwhile, LSU's rushing attack continued to attack the middle of the field, leaving Belue without any chances for run support. ... Late in the game, with a comfortable lead, Alabama called softer coverages for its cornerbacks and Belue began to back off of Beckham and Landry, whom he had been playing press coverage on for most of the night. Belue finished with four solo tackles, while Landry recorded five receptions for 90 yards, half of which came on the deep pass over Belue in the first quarter.
On his key pass breakup on 3rd and 7: "On that play, I credit coach (Kirby) Smart for putting me in that position. He called it so that I would be underneath the play."
On Beckham and Landry: "Beckham and Landry are the best receivers in the country. ... You're out there on the island on your own against them. You've got to bow up."
On the deep pass he allowed to Landry: "We had a little miscommunication there. I thought I had a little help on the back end (from a safety), but I didn't. But it was still a good through. I was there, I just missed the play. ... You're going against a good QB. A play is going to happen. When it happens, you just to stop it right there, regroup and get back at it again."