As a result of the shutdown of the federal government, the Department of Defense on Tuesday suspended all intercollegiate athletic competitions at the service academies. That leaves two football games scheduled for Saturday in limbo.
Army is scheduled to play at Boston College, while Air Force and Navy are scheduled to play at Navy in a game that is sold out. A Department of Defense official who asked to remain anonymous said, "Neither game has been officially postponed or canceled at this time."
Things we learned in Week 5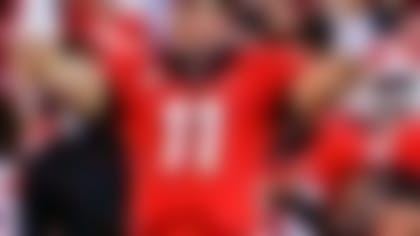 From Georgia's thrilling victory over LSU to USC's loss that got Lane Kiffin fired, here are 43 things we learned about Week 5 in college football. **More ...**
The Naval Academy said in a release that "notification on Saturday's football game against Air Force will be made public prior to 12 noon on Thursday."
If the shutdown ends, the athletics suspension immediately ceases.
The Air Force-Navy game is the first in a series of three service academy matchups for the Commander-in-Chief's Trophy. The game is scheduled for a national telecast on CBS at 11:30 a.m. Eastern time.
The defense department official said there had been an offer of "gifted travel costs" to help one of the service academy teams and that the offer was undergoing a "legal review." If the offer passes legal muster, it then would have to be signed off on by the Secretary of Defense.
The official said the academies could not use appropriated funds from the government for any athletics competition during the shutdown.
The official also said all three service academies have private athletic associations, but one of the three uses more appropriated funds than the other two.
If the games involving the academies are postponed, there are no makeup dates for either game available unless the teams involved want to play Dec. 7. That is the day of the ACC title game (Boston College is in the ACC) and the Mountain West Conference championship game (Air Force is in the MWC).
If the games end up being canceled, it could hurt Army and Navy in their bids to become bowl-eligible. Each is guaranteed a spot in a bowl (Army in the Poinsettia, Navy in the Armed Forces) if it reaches the NCAA-mandated six wins. Navy is 2-1, and Army is 2-3.
Mike Huguenin can be reached at mike.huguenin@nfl.com. You also can follow him on Twitter @MikeHuguenin.