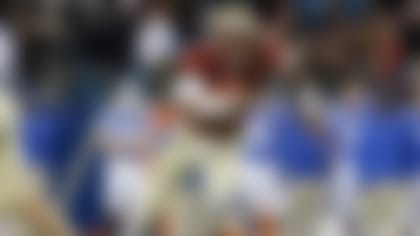 The ACC had the worst record among the "Power Five" conferences in BCS bowls during the BCS era (it had a worse record than the Big East/AAC, too), but the conference ended that era with a bang, as league champ Florida State won last season's national title.
This season, the storyline in the ACC will be whether FSU can win it all again. FSU winning the conference title is seen as a given because there doesn't appear to be anybody in the league remotely close to the Seminoles in terms of sheer talent. Thus, this season is all about Florida State making the playoff; if the Seminoles don't make the four-team field, this season will have been a massive disappointment.
Within the league, all the intrigue surrounds the Coastal Division race. Six teams -- all but Virginia -- would seem to harbor at least slight hopes of winning the division. One reason there is such a mystery in the division is that none of the schools seem to have a truly settled quarterback situation. Iffy quarterback play can lead to mediocre seasons.
Atlantic Division
1. Florida State: On paper, the defending national champs are far and away best team in the ACC. They should be able to prove that on field, too.
2. Clemson: A rebuilt offense -- new QB, new TB and new go-to WR -- might need a while to jell. But the defense should be able to pick up the slack for a while, at least.
3. Louisville: The Cardinals are in a new (and much better) league and have a new coach. Expectations are high anyway. There definitely is some talent on hand.
4. Syracuse: There appears to be a somewhat significant line of demarcation between the top three teams and the bottom four in this division. Syracuse's defense gets them the No. 4 spot.
5. North Carolina State: There's a lot of pressure on transfer QB Jacoby Brissett. Can he handle the glare?
6. Boston College: With highly productive TB Andre Williams now in the NFL, who provides the offense? The secondary has a chance to be quite good.
7. Wake Forest: There are questions everywhere -- QB, RB, WR, DE, DT, OLB. At least the non-conference schedule is an easy one.
Coastal Division
1. North Carolina: The Coastal race is wide open, and what should be a potent offense gives the Heels a slight advantage.
2. Miami: TB Duke Johnson is a stud and there are a number of good receivers on the roster. But other than star MLB Denzel Perryman, the defense is questionable; that unit has been awful the past two seasons.
3. Duke: The Blue Devils won the division last season, but they already have lost their best defensive player (LB Kelby Brown) and star tight end (Braxton Deaver) to severe knee injuries. They're good enough to get to a bowl, but not to repeat as division champs.
4. Virginia Tech: As usual, the defense will be fine, with the secondary standing out. But will the offense be effective? Questions abound on that side of the ball.
5. Pittsburgh: If sophomore QB Chad Voytik plays at a high level, Pitt can win the division. WR Tyler Boyd and bruising RB James Conner are sophomore stars.
6. Georgia Tech: Coach Paul Johnson is feeling a bit of heat. Can he find a quarterback who can competently run his triple option? LB Quayshawn Nealy heads what should be a solid defense.
7. Virginia: This is the only team in the division that appears to have no shot at the title. There are some standouts on defense, but the offense was bad last season and there doesn't appear to be that much hope that it will improve this season.
Florida State: The Seminoles are loaded as they aim for back-to-back national titles. Heisman-winning QB Jameis Winston heads the offense, and he will operate behind what could be the nation's best line; he also has big-time weapons in WR Rashad Greene and TB Karlos Williams. The defense will be stout, too, with what might be the nation's best secondary and a deep line. There is a rebuilt linebacker corps, but that position should be fine, too. A lot of teams are hoping to make the playoff; FSU should be expected to be there.
Offensive Player of the Year
QB Jameis Winston, Florida State: Winston (6-4, 230), a sophomore, is the reigning Heisman winner. He set NCAA freshman records with 40 TD passes and 4,057 passing yards last season. He had eight games with at least three TD passes and 13 with at least two scoring tosses. He also had seven 300-yard games. Winston has some mechanical issues to deal with, and must clean up his off-field act. But he has a strong arm, is mobile and plays with a swagger.
Defensive Player of the Year
DE Vic Beasley, Clemson: Beasley (6-3, 235), a senior, is one of the best pass rushers in the nation; he has excellent speed and is able to use that burst to get around opposing linemen. He also has a surprisingly effective bull rush. He will be moved to outside linebacker at the next level and already is working on those needed attributes. A season with at least a dozen sacks appears likely.
WR Mike Williams, Clemson: Clemson lost two of its three starting receivers (Sammy Watkins and Martavis Bryant), and Williams (6-4, 210) certainly has the talent to become Clemson's go-to receiver. He had 20 receptions and three TD catches as a true freshman last season, and now must prove he has the focus and consistency to be the No. 1 guy. Williams is in line for a big season, which means he would go into the 2015 season as one of the nation's best receivers.
QB Cole Stoudt, Clemson: Stoudt (6-4, 225), a senior whose dad, Cliff, was an NFL quarterback, has been given the keys to what has been a potent offense in the past few seasons. But Stoudt has to do more than simply take over for star QB Tajh Boyd; he has to coax production out of a unit that lacks a proven go-to receiver and a feature back, so what kind of numbers can he be expected to put up? Coordinator Chad Morris says the offense will be fine, but for it to be good, Stoudt must come through. If he does, Clemson has a solid-enough defense to again get to a "big" bowl; if Stoudt falters, the offense will, too, and in that scenario, Clemson ends up a seven- or eight-win team.
Three best non-conference games
Clemson at Georgia, Aug. 30: Clemson beat the Bulldogs to open last season and went on to play in a BCS bowl. But this is a vastly different Tigers team, especially on offense.
Miami at Nebraska, Sept. 20: UM has lost a lot of national relevance, but winning in Lincoln would help restore some of that lost luster. In addition, a road victory over what is thought to be one of the best teams in the Big Ten definitely would stamp the Hurricanes as the team to beat in the Coastal Division.
Notre Dame at Florida State, Oct. 18: FSU's non-conference schedule is much tougher than last season's, and this should be the toughest test.
Three biggest conference games
Clemson at Florida State, Sept. 20: Clemson is considered Florida State's top challenger, both in the Atlantic Division and the league as a whole. FSU mauled Clemson last season. Can the Tigers pull the big upset this season -- and in Tallahassee, no less?
Florida State at Louisville, Oct. 30: This Thursday-night affair looks to be Florida State's toughest road test -- and might end up being the Seminoles' toughest game overall, too.
North Carolina at Miami, Nov. 1: The Coastal Division race is a toss-up, and this game could end up determining the division winner. At the least, it will have a bearing on who wins the division.
Preseason All-Conference Team
Offense
QB Jameis Winston, Florida State (6-4, 230, sophomore)
RB Duke Johnson, Miami (5-9, 206, junior)
RB Karlos Williams, Florida State (6-1, 225, senior)
WR Rashad Greene, Florida State (6-0, 180, senior)
WR DeVante Parker, Louisville (6-3, 208, senior)
TE Nick O'Leary, Florida State (6-3, 247, senior)
T Cameron Erving, Florida State (6-6, 308, senior)
T Sean Hickey, Syracuse (6-6, 306, senior)
G Tre Jackson, Florida State (6-4, 330, senior)
G Laken Tomlinson, Duke (6-3, 330, senior)
C Andy Gallik, Boston College (6-3, 304, senior)
Defense
DE Vic Beasley, Clemson (6-3, 235, senior)
DT Grady Jarrett, Clemson (6-0, 290, senior)
DT Luther Maddy, Virginia Tech (6-1, 293, senior)
DE Mario Edwards Jr., Florida State (6-3, 294, junior)
LB Lorenzo Mauldin, Louisville (6-4, 244, senior)
LB Quayshawn Nealy, Georgia Tech (6-1, 236, senior)
LB Denzel Perryman, Miami (6-0, 242, senior)
CB Kendall Fuller, Virginia Tech (6-0, 190, sophomore)
CB P.J. Williams, Florida State (6-0, 196, junior)
FS Durell Eskridge, Syracuse (6-4, 205, junior)
SS Anthony Harris, Virginia (6-1, 190, senior)
Mike Huguenin can be reached at mike.huguenin@nfl.com. You also can follow him on Twitter @MikeHuguenin.