I know Georgia coach Mark Richt didn't mean quarterback Aaron Murray any harm when he said over the weekend that "I think he'll get drafted." To some, it might have come across as a slight to a record-setting quarterback in college football's most fiercely competitive conference.
I don't know exactly where Murray will get drafted now that he tore the ACL in his left knee, an injury that is likely to sideline him for the Senior Bowl, the NFL Scouting Combine, Georgia's pro day and every other opportunity he might have had to impress NFL teams between the end of the college season and the May draft.
Daniel Jeremiah says Boston College's Andre Williams is trending upward while Johnny Manziel is taking a step back in his weekly stock report. More ...
The injury hasn't altered my feelings for Murray, a player who I think could have really benefited from fully participating in the draft process. A bit undersized at just under 6-foot-1, Murray has a chance to prove his doubters wrong. Some NFL team is going to get him at a discount because of the injury and will have a guy who will immediately come in and compete with a chance to take that team to the playoffs.
On an uneven scale from three (average) to nine (the top), I don't have a grade lower than seven on any characteristic for Murray. I gave him nines for intelligence, dedication and competitiveness, an eight for accuracy, and sevens for arm strength and mobility.
Because he graded out so highly on dedication and competitiveness, and because of recent surgical advances made with knee injuries, there's no doubt in my mind Murray will come out of this stronger than he was.
I understand I'm a lot higher on him than most, but the reality is most teams are all over the board in their opinions of him. Some see him as a starter, some as a backup.
Week 13: Things we learned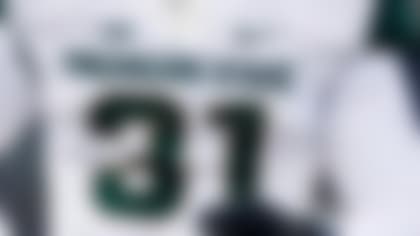 From Darqueze Dennard proving his status as a shutdown corner to an ailing Jadeveon Clowney sitting out, here are the lessons we learned in Week 13 of college football. More ...
I'm not in love with these comparisons, but the ones I would use with Murray are Drew Brees and Russell Wilson, and not just because of the perceived lack of height. They're smart as hell and fighters who put the necessary work in during the week. They're the first in, last out. And they've taken their teams to surprising -- sometimes unprecedented -- heights.
I'm not saying Murray will turn into either of those quarterbacks, but he has similar qualities. I've been told by my Georgia sources that his work ethic has been impeccable since he became the starter as a redshirt freshman.
He's going to get nicked by his average arm strength, but he can throw the ball 45 yards with ease; he's just not going to throw it on a rope like LSU's Zack Mettenberger would (by the way, Murray beat out Mettenberger for Georgia's starting job before Mettenberger transferred to LSU).
Here's what I like about him most: He's a four-year starter who's enjoyed great individual and team success. And he cares deeply about his teammates and coaches. Did you see how distraught he was after getting beat by Auburn on a last-second play two weeks ago? Laugh all you want, and there were plenty of you who did, but I like that. Give me that guy over the one with the rocket arm who is joking on the sideline.
Week 13: Top QB performances
Fresno State's Derek Carr threw seven TD passes Saturday, but it wasn't enough to earn the No. 1 spot on our list of the top 10 QB performances of the weekend. More ...
Murray is a leader who rises to challenges. If there was any doubt about that, take a look at what he did against two of the nation's best defenses this season -- Georgia victories over LSU and South Carolina. And take a look at how he kept his team competitive despite losing his top two receivers and top two running backs this season.
I know it's not the same as seeing him throw in person, but there is plenty of tape -- good tape -- for NFL teams to see what Murray can do. It will show a competitor with good movement and speed (low 4.6s), average (but certainly not poor) arm strength, who can throw the back-shoulder fade and wills his team to victory.
And he'll receive his chance to get in front of teams. They'll have him stay stationary and toss the ball. There's value in that. They'll also get to know him as a person, and he'll wow them with his vibrant personality and smarts.
No doubt, his draft status will be affected by the injury and his inability to work out for teams. But some team will take him in the middle-to-late rounds and find a leader of men with few weaknesses.