Each Monday during the college football season, NFL Media draft analyst Daniel Jeremiah identifies five things that are chugging along smoothly and five things that are off the rails.
Things we learned in Week 5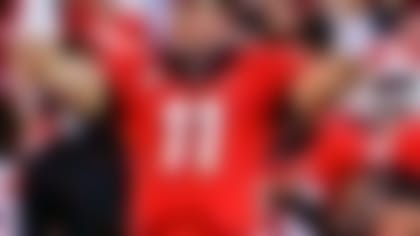 From Georgia's thrilling victory over LSU to USC's loss that got Lane Kiffin fired, here are 43 things we learned about Week 5 in college football. **More ...**
1. Georgia QB Aaron Murray: Murray played one of the best games of his career on Saturday. The senior signal-caller led the Bulldogs to a thrilling 44-41 victory over LSU. He completed 20 of 34 passes for 298 yards, four touchdowns and one interception while also rushing for a score. He showed outstanding poise in the pocket throughout the contest, and he moved quickly through his progressions to find the open receiver. Murray lacks ideal measurables and arm strength, but he's playing the best football of his college career and has the Bulldogs in contention for an SEC championship.
2. LSU QB Zach Mettenberger: Murray played great, but he wasn't the most impressive quarterback in the LSU-Georiga game. Mettenberger put up monster numbers (23-of-37 for 372 yards and three touchdowns) and made several "wow" throws against the Bulldogs. He didn't come away with the victory, but Mettenberger was the biggest winner in terms of his NFL draft stock. During the game, I received several text messages from NFL scouts and personnel executives praising the play of LSU's senior quarterback. His combination of size, arm strength and accuracy is very attractive to NFL teams in search of a quarterback.
3. Central Florida QB Blake Bortles: Bortles put together a very solid performance in a losing effort against 12th-ranked South Carolina. He completed 25 of 36 passes for 358 yards, two touchdowns and two interceptions. The junior quarterback has excellent size (6-foot-4, 230 pounds), touch and mobility. He was under an intense pass rush in the second half, but he still found a way to make some big throws down the field. I'm eager to see how he plays in three weeks, when the Knights take on Teddy Bridgewater and Louisville.
4. Ohio State QB Braxton Miller: Miller returned to the Ohio State starting lineup on Saturday night and helped lead the Buckeyes to a 31-24 victory over Wisconsin. He completed 17 of 25 passes for 198 yards and four touchdowns. He also contributed 83 yards on the ground, showing why he's one of the most dynamic players in all of college football. His ability to run and extend plays was remarkable, but I was more impressed with his improvement as a passer. His decision-making was excellent, and he showed better touch down the field. He has unlimited upside.
5. Northern Illinois QB Jordan Lynch: Lynch put together a very efficient game, leading the Huskies to a blowout win over Purdue (55-24). The six-foot senior completed 18 of 25 passes for 207 yards and three touchdowns while also rushing for 35 yards and a score. The Huskies are now 4-0, and they've reeled off two wins over Big Ten opponents (they beat Iowa 30-27 in the opener). Lynch is the key component to their offensive attack. He is an accurate passer in and out of the pocket, and he has outstanding quickness and instincts as a runner.
1. Lane Kiffin: Soon after suffering another embarrassing loss, USC athletic director Pat Haden decided it was time to remove Kiffin as the Trojans' head coach. The timing was a surprise, but this was a move that seemed inevitable. Kiffin compiled a mediocre record (28-15) during this three-plus seasons in Los Angeles, and this is not a program that accepts mediocrity. The NCAA sanctions severely crippled the depth of Kiffin's roster, but it was the lack of energy, competitiveness and confidence displayed by his team that made this an easy decision.
2. Notre Dame QB Tommy Rees: Rees has contributed to a few huge wins during his career at Notre Dame, but he's also had his share of poor outings. Saturday was a performance he'd soon like to forget. He struggled mightily as the Irish lost to Oklahoma, 35-21. He was inaccurate all day, completing only 9 of 24 passes for 104 yards. He did toss two touchdowns, but those were offset by three interceptions, two of which took place in his first three throws of the game. Rees wasn't the only Notre Dame player to struggle against the Sooners, but his early turnovers set the tone for the game.
3. USC WR Marqise Lee and Oregon RB De'Anthony Thomas: Lee and Thomas both suffered injuries that forced them to leave their games on Saturday. Thomas suffered an ankle injury on the opening kickoff of Oregon's game against Cal and Lee suffered a knee injury during a fourth-quarter punt return against Arizona State. Both players could miss some time as a result of these injuries, and it will be interesting to see if their special-teams reps are limited upon return.
4. Ohio State CB Bradley Roby: Roby is one of the most talented cornerbacks in the country, but he had a brutal night against Wisconsin. He spent most of the game lined up opposite of Wisconsin wide receiver Jared Abbrederis and was unable to contain the Badgers' senior pass-catcher. Abbrederis finished the game with 10 catches for 207 yards and a touchdown. Roby was caught guessing at times, and other times he was simply out-run or out-muscled for the football. His inability to locate and play the ball at the highest point is a major concern. Roby did have an interception in the game, but it was the result of a horrible throw from Wisconsin's Joel Stave. Roby was in off-coverage and the ball was thrown directly to him.
5. Ole Miss offense: Alabama struggled to contain the Texas A&M offense earlier this season and there were many in the media, myself included, that predicted the Ole Miss offense could pile up some points, as well. That did not happen. The Rebels were shut out, 25-0, and their offense posed very little threat. They only produced 205 total yards, including just 46 rushing yards on 25 carries. They also turned the ball over twice and only collected 11 first downs.