Week 4 of the college football season has a tough act to follow. Last week featured the highly anticipated rematch between Alabama and Texas A&M as well as a wild contest between Wisconsin and Arizona State. This week's slate only features one matchup between top 25 teams (Stanford vs. Arizona State) but there are still a handful of intriguing games and plenty of big-time players to monitor. Here are the five players I'll be focused on this weekend:
Mettenberger is playing as well as any quarterback in the country. In the Tigers' first three games, the strong-armed senior has totaled 797 passing yards and nine touchdowns. He has yet throw an interception and has a 65.2 percent completion rate. This week, LSU opens SEC play at home, against the 3-0 Auburn Tigers. I'm eager to see if Mettenberger, after playing UAB and Kent State the past two weeks, can keep up this standard of play as the competition level jumps up.
College football game rankings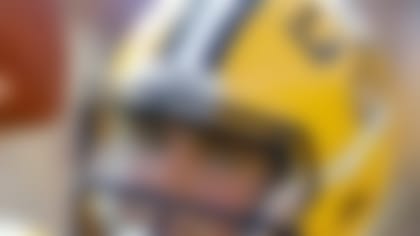 The competition gets tougher for Zach Mettenberger as LSU takes on undefeated Auburn. Take a look at where that matchup ranks among our top 10 games to watch in Week 4. More ...
Utah State QB Chuckie Keeton
Keeton is one of the hidden gems in college football. The junior signal-caller is an outstanding playmaker and he'll have a chance to make a bold statement on Saturday, when Utah State heads to the L.A. Coliseum to take on USC. Trojans coach Lane Kiffin is very aware of Keeton's ability, comparing him to Russell Wilsonearlier in the week. In his first three games of 2013, Keeton has already totaled 923 passing yards, 12 touchdowns and only one interception. His completion percentage is ridiculous (78.1) and he's also rushed for 187 yards and a score. Last season, Keeton played great against Wisconsin and he was excellent against Auburn in 2011. The Trojans' offense has been inconsistent but their defense has been dominant. This will be a huge challenge for Keaton.
Breslin burst onto the scene last fall for the Trojans, after arriving from Diablo Valley Junior College. He led USC in sacks (13) and tackles for loss (19.5). On Saturday, he will be a key component in the USC effort to slow down a Utah State offense that is averaging 49.3 points per game (eighth highest in the FBS). Breslin must find a way to generate pressure on Aggies QB Chuckie Keeton without being reckless and allowing Keeton to break contain. When I studied Breslin this spring, I wasn't enamored with his athleticism but I was extremely impressed by his effort and will to finish. This is the perfect contest to put those skills on display.
Baylor OG Cyril Richardson
Richardson is one of the top interior linemen in the country. He has outstanding size, strength and awareness. He has helped pave the way for one the most explosive offenses in college football. Through the first two games of the season, Baylor is averaging 69.1 points per game (first in the FBS), 431.5 passing yards (third), and 305 rushing yards (eighth). Richardson has the power to create movement at the point of attack in the run game and he uses his size and balance to swallow up defenders in the passing attack. He'll face an underrated challenge this week as Baylor takes on Louisiana-Monroe. The Warhawks are fresh off a win over Wake Forest and they played Baylor down to the wire last fall, before losing 47-42.
Arizona State RB Marion Grice
Grice is coming off a huge game against Wisconsin (4 rushing touchdowns) and he'll need to put together another stellar outing in order for Arizona State to upset Stanford. The Sun Devils run a wide open spread attack, which normally creates plenty of space for Grice to roam. That might not be the case against the Cardinal. Stanford's front seven stymied Oregon's spread attack last year and they are more talented and experienced in 2013. This will be a huge challenge for Grice but a big effort in this contest could send his draft stock soaring.