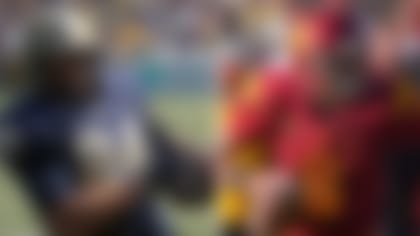 The Wuerffel Trophy revealed its 80-player watch list on Wednesday.
The award goes to the college football player who best combines exemplary community service with athletic and academic achievement. It's named after former Florida and NFL quarterback Danny Wuerffel, who won the Heisman Trophy in 1996.
Past recipients of the trophy include Tim Tebow (Florida, 2008), Sam Acho (Texas, 2010), Matt Barkley (USC, 2012) and Deterrian Shackelford (Ole Miss, 2014).
Semifinalists for the award will be announced on Nov. 3 and finalists will be announced on Nov. 24. The winner will be revealed on Dec. 8.
Schedule of award watch list releases:
Wuerffel Trophy watch list
OL Tony Adams, N.C. State
K Roberto Aguayo, Florida State
LB Jeremiah Allison, Washington State
DB Dante Barnett, Kansas State
QB Mike Bercovici, Arizona State
OL Adam Bisnowaty, Pittsburgh
TE Tommy Blevins, Troy
OL Jake Brendel, UCLA
LB Kelby Brown, Duke
LB James Burgess, Louisville
DB Richard Carthon, Tulane
CB Terrell Chestnut, West Virginia
P Mattias Ciabatti, USF
C Tyler Compton, Old Dominion
RB James Conner, Pittsburgh
DB Dallas Crawford, Miami
OL Andrew Cunningham, New Mexico State
C Ty Darlington, Oklahoma
P Riley Dixon, Syracuse
QB Joshua Dobbs, Tennessee
DB Matt Dobson, Georgia Southern
OL Spencer Drango, Baylor
LB Brooks Ellis, Arkansas
P James Farrimond, Rice
P Landon Foster, Kentucky
DE Keshun Freeman, Georgia Tech
QB Blake Frohnapfel, Massachusetts
DE Brian Guendling, Texas State
LS Bryce Haynes, Ohio State
QB Taysom Hill, BYU
OL Will Hopkins, Oregon State
C Joey Hunt, TCU
DB Jordan Italiano, Kent State
RB Don Jackson, Nevada
DB Ryan Janvion, Wake Forest
LB Jordan Jenkins, Georgia
QB Jaquez Johnson, Florida Atlantic
RB Aaron Jones, UTEP
P Jamie Keehn, LSU
QB Chuckie Keeton, Utah State
QB Cody Kessler, USC
OL Andreas Knappe, Connecticut
QB Trevor Knight, Oklahoma
QB Fredi Knighten, Arkansas State
LB Myer Krah, Navy
DB Luther Maddy, Virginia Tech
DB Trent Matthews, Colorado State
DB Stefan McClure, California
DB Adrian McDonald, Houston
LB Wynton McManis, Memphis
DB Doug Middleton, Appalachian State
WR Malcolm Mitchell, Georgia
P Peter Mortell, Minnesota
DB Michael Mudoh, Tulsa
DB Justis Nelson, Texas Tech
DB Demetrious Nicholson, Virginia
DE Julien Obioha, Texas A&M
LB Joshua Perry, Ohio State
LB Levi Peters, Iowa State
OL Christian Piazza, Bowling Green
QB Dak Prescott, Mississippi State
TE Josiah Price, Michigan State
LB Shakeel Rashad, North Carolina
LB Kyle Ricciardi, Army
WR Corey Robinson, Notre Dame
LB Joe Schmidt, Notre Dame
WR Kenneth Scott, Utah
OL Jordan Shelley-Smith, Kansas
DB Justin Simmons, Boston College
K Casey Skowron, Arizona
DL Cameron Smith, SMU
TE Jonnu Smith, FIU
DB Fish Smithson, Kansas
QB Nate Sudfeld, Indiana
K Aleem Sunanon, South Alabama
TE Evan Tatford, Louisiana
QB Zach Terrell, Western Michigan
QB Chad Voytik, Pittsburgh
DT Hershey Walton, Temple
WR Shane Williams-Rhodes, Boise State