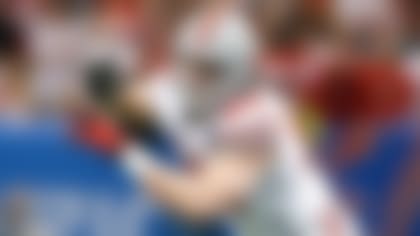 As is the case with the Bronko Nagurski Trophy, Arizona linebacker Scooby Wright III is attempting to become just the second two-time winner of the Rotary Lombardi Award. Wright, last year's winner of the Lombardi Award, is among 145 players on the preseason Lombardi Award watch list.
Wright -- the 2014 Pac-12 Defensive Player of the Year -- also took home the Bednarik Award last year.
Ohio State's Orlando Pace -- who went on to a decorated NFL career with the St. Louis Rams, earning seven Pro Bowl selections -- is the only two-time winner of the Lombardi Award, doing so in 1995-96.
Ohio State defensive end Joey Bosa, meanwhile, is vying to become the sixth different Ohio State player -- the most of any school -- to win the award, joining the aforementioned Pace, Jim Stillwagon (1970), John Hicks (1973), Chris Spielman (1987) and A.J. Hawk (2005).
Other notable talents on the Lombardi Award watch list include Oregon DE DeForest Buckner, Michigan State DE Shilique Calhoun, Texas A&M DE Myles Garrett, Ole Miss DT Robert Nkemdiche, Georgia OG Greg Pyke, Baylor DE Shawn Oakman and Notre Dame OT Ronnie Stanley.
The Lombardi Award is limited to down linemen, end-to-end, either on offense or defense, who set up no farther than 10 yards to the left or right of the ball, or linebackers who set up no farther than five yards deep from the line of scrimmage.
Schedule of award watch list releases:
Rotary Lombardi Award watch list
Ramadan Ahmeti, OL, Central Michigan
Dominique Alexander, LB, Oklahoma
Vadal Alexander, OG, LSU
Jack Allen, C, Michigan State
T.T. Barber, LB, Middle Tennessee
Alex Barrett, DL, San Diego State
Willie Beavers, OL, Western Michigan
Adrian Bellard, OT, Texas State
Caleb Benenoch, OL, UCLA
Dalton Bennett, OG, Troy
Vince Biegel, LB, Wisconsin
Zeek Bigger, LB, East Carolina
Andrew Billings, DT, Baylor
Adam Bisnpwaty, OL, Pittsburgh
Ronald Blair, DE, Appalachian State
Joey Bosa, DE, Ohio State
J.T. Boyd, OG, East Carolina
Jatavis Brown, LB, Akron
DeForest Buckner, DE, Oregon
James Burgess, LB, Louisville
Vernon Butler, DT, Louisiana Tech
Shilique Calhoun, DE, Michigan State
Brandon Chubb, LB, Wake Forest
Kenny Clark, DT, UCLA
Le'Raven Clark, OT, Texas Tech
Ben Clarke, OL, Hawaii
Trevon Coley, DT, Florida Atlantic
Jack Conklin, OT, Michigan State
Kamalei Correa, DE, Boise State
Sheldon Day, DT, Notre Dame
Taylor Decker, OT, Ohio State
Hunter Dimick, DE, Utah
Spencer Drango, OT, Baylor
Parker Ehinger, OG, Cincinnati
Ken Ekanem, DE, Virginia Tech
Pat Elflein, OG, Ohio State
Steve Elmer, OG, Notre Dame
Kyler Fackrell, LB, Utah State
Dan Feeney, OG, Indiana
Sedrick Flowers, OG, Texas
Leonard Floyd, LB, Georgia
Isaiah Folasa-Lutui, OG, New Mexico State
Kyle Fuller, C, Baylor
Joshua Garnett, OG, Stanford
Myles Garrett, DE, Texas A&M
Adam Gotsis, DT, Georgia Tech
Darrell Greene, OL, San Diego State
Ike Harris, OT, East Carolina
Tylor Harris, DT, Wake Forest
Marcus Henry, OG, Boise State
Nick Holt, LB, Western Kentucky
Alex Huettel, C, Bowling Green
Matt Hugenberg, OL, Army
D.J. Hunter, LB, Marshall
Great Ibe, LB, Eastern Michigan
Myles Jack, LB, UCLA
Jordan Jenkins, LB, Georgia
Darius Johnson, OG, Middle Tennessee
Gerrand Johnson, DT, Louisiana-Monroe
Tyler Johnstone, OT, Oregon
Jarron Jones, DT, Notre Dame
Bronson Kaufusi, DE, BYU
Kingsley Keke, DT, Texas A&M
Ryan Kelly, C, Alabama
Kaydon Kirby, C, North Texas
Hunter Kissenger, LB, Louisiana-Monroe
Tejan Koroma, OL, BYU
James Kristof, OL, Western Michigan
Nick Kwiatkoski, LB, West Virginia
Royce LaFrance, DE, Tulane
Forrest Lamp, OL, KR Western Kentucky
Taylor Lasecki, C, SMU
Darron Lee, LB, SO Ohio State
Steve Longa, LB, Rutgers
Alex Lyons, LB, Rice
Nick Martin, C, Notre Dame
Blake Martinez, LB, Stanford
Praise Martin-Oguike, DL, Temple
Tyler Matakevich, LB, Temple
Boomer Mays, LB, Northern Illinois
Cassanova McKinzy, LB, Auburn
Marc Millan, LB, Idaho
Mason Monheim, LB, Illinois
Alfredo Morales, OL, Texas Tech
Silverberry Mouhon, DE, Cincinnati
Antonio Morrison, LB, Florida
Andrew Ness, C, Northern Illinois
Dadi Nicolas, DE, Virginia Tech
Thomas Niles, DE, UCF
Robert Nkemdiche, DT, Ole Miss
Reggie Northrup, LB, Florida State
Shawn Oakman, DE, Baylor
Pat O'Connor, DE, Eastern Michigan
Rees Odhiambo, OT, Boise State
Emmanuel Ogbah, DE, Oklahoma State
Joe Ostman, DE, Central Michigan
Montese Overton, LB, East Carolina
Denzell Perine, DE, Florida International
Caleb Peterson, OG, North Carolina
Joseph Peterson, LB, Georgia State
Davion Pierson, DT, TCU
Manoa Pikula, LB, BYU
Greg Pyke, OG, Georgia
Mykheal Quave, OT, Louisiana–Lafayette
Reggie Ragland, LB, Alabama
Sheldon Rankins, DE, Louisville
Andrew Reue, OL, Rice
Tyler Roberts, DE, Troy
A'Shawn Robinson, DT, Alabama
Jovan Santos-Knox, LB, Massachusetts
Joseph Scelfo, C, South Alabama
Joe Schmidt, LB, Notre Dame
Isaac Seumalo, C, Oregon State
Ian Seau, DE, Nevada
Blake Serpa, DL, Central Michigan
Ryan Simmons, LB, Oklahoma State
Matt Skura, C, Duke
Pearce Slater, OL, San Diego State
Jaylon Smith, LB, Notre Dame
Terrence Smith, LB, Florida State
Garrett Stafford, OT, Tulsa
Ronnie Stanley, OT, Notre Dame
Graham Stewart, LB, Connecticut
Chris Stone, DE, Arkansas State
Eric Striker, LB, Oklahoma
Christian Tago, LB, San Jose State
Chris Taylor, OG, Tulane
Jeremy Timpf, LB, Army
Dominique Tovell, LB, Louisiana-Lafayette
Max Tuerk, C, USC
Laremy Tunsil, OT, Ole Miss
Landon Turner, OG, North Carolina
Tanner Vallejo, LB, Boise State
Eddie Vanderdoes, DL, UCLA
Clint Van Horn, OT, Marshall
Nick Vigil, LB, Utah State
Trent Voss, DE, Toledo
Michael Wakefield, DE, Florida International
Adolphus Washington, DT, Ohio State
Toby Weathersby, OT, LSU
Scooby Wright III, LB, Arizona
Eddie Yarbrough, DE, Wyoming
Avery Young, OT, Auburn
Anthony Zettel, DT, Penn State