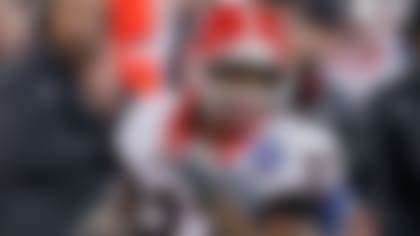 The Doak Walker Award, which goes to the nation's top running back, released its watch list Thursday.
There are 69 players on the list, including 2014 semifinalists Matt Breida (Georgia Southern), James Conner (Pittsburgh) and Devon Johnson (Marshall). Wisconsin's Corey Clement is also on the list. Clement will try to become the second consecutive Badgers player to win the award -- Melvin Gordon (first-round pick of the San Diego Chargers) took home the hardware last year.
Other top contenders for the award include Georgia's Nick Chubb, Ohio State's Ezekiel Elliott and Oklahoma's Samaje Perine.
The winner of the award will be announced on Dec. 10.
Schedule of award watch list releases:
Doak Walker Award watch list
Leon Allen, Western Kentucky
Devontae Booker, Utah
Matt Breida, Georgia Southern
Brandon Burks, Troy
Jordan Canzeri, Iowa
Tra Carson, Texas A&M
Nick Chubb, Georgia
Corey Clement, Wisconsin
Alex Collins, Arkansas
James Conner, Pittsburgh
Marcus Cox, Appalachian State
Justin Davis, USC
Matt Dayes, N.C. State
Kenneth Dixon, Louisiana Tech
Ezekiel Elliott, Ohio State
Kenneth Farrow, Houston
Josh Ferguson, Illinois
Tarean Folston, Notre Dame
Leonard Fournette, LSU
Jarvion Franklin, Western Michigan
Royce Freeman, Oregon
Wayne Gallman, Clemson
Michael Gordon, Arkansas State
Johnathan Gray, Texas
Aaron Green, TCU
Travis Greene, Bowling Green
Russell Hansbrough, Missouri
Derrick Henry, Alabama
Jon Hilliman, Boston College
Jordan Howard, Indiana
Kareem Hunt, Toledo
LaJuan Hunt, Utah State
Darius Jackson, Eastern Michigan
Don Jackson, Nevada
Justin Jackson, Northwestern
Paul James, Rutgers
Devon Johnson, Marshall
Aaron Jones, UTEP
Daniel Lasco, California
Ray Lawry, Old Dominion
Shock Linwood, Baylor
Robert Lowe, Texas State
Akeel Lynch, Penn State
Marlon Mack, USF
Tre Madden, USC
Christian McCaffrey, Stanford
Elijah McGuire, Louisiana
Samaje Perine, Oklahoma
Paul Perkins, UCLA
Christian Powell, Colorado
Shaquille Powell, Duke
Donnel Pumphrey, San Diego State
Demario Richard, Arizona State
Ashton Shumpert, Mississippi State
William Stanback, UCF
Chris Swain, Navy
Anthone Taylor, Buffalo
Jahad Thomas, Temple
Shane Tucker, Middle Tennessee
Thomas Tyner, Oregon
Marteze Waller, Fresno State
DeAndre Washington, Texas Tech
Dwayne Washington, Washington
Ralph Webb, Vanderbilt
Shaun Wick, Wyoming
Brandon Wilds, South Carolina
Jamaal Williams, BYU
Jonathan Williams, Arkansas
Nick Wilson, Arizona